TCU rebounds with 41-20 win over Iowa State to open Big 12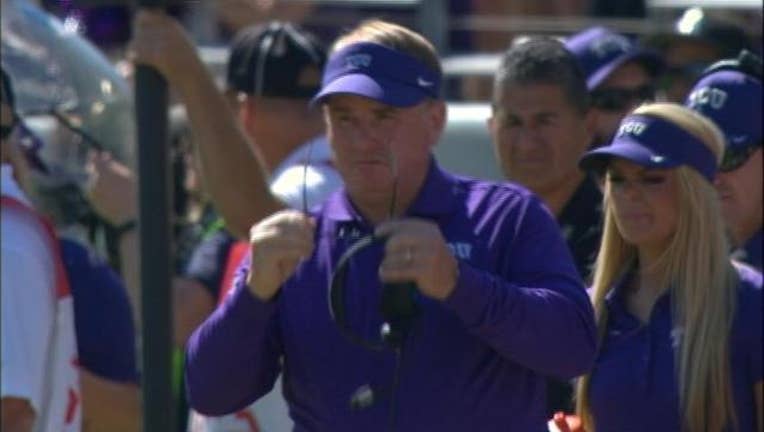 article
FORT WORTH, Texas (AP) — TCU tailback Kyle Hicks broke into the open, and really had a clear path to the end zone after 315-pound tackle Joseph Noteboom knocked a defensive back out of the way about 25 yards downfield.
The Horned Frogs quickly rebounded from a loss that knocked them out of the Top 25, beating Iowa State 41-20 on Saturday in the first game that counted into the Big 12 standings.
Hicks ran for 117 yards, including untouched on that 64-yard TD run behind the big left tackle. That put TCU up 10-0 in the first quarter, a week after losing in double overtime at home to Arkansas.
"Glad to have Noteboom running alongside of me. ... He kept running until he ran into somebody," said Hicks, who later caught a 25-yard touchdown from Kenny Hill.
"Unreal. He can go," Hill said, describing Hicks.
Hicks was wide open in the end zone for the TD catch on the opening drive of the second half for a 31-7 lead.
Iowa State, with first-year coach Matt Campbell , is 0-3 for the first time since 1997. But it was a step forward after a 42-3 loss a week earlier at No. 13 Iowa, which was upset at home Saturday by five-time defending FCS national champion North Dakota State.
"We were a lot more detailed in terms of effort, commitment, commitment to each other and it was fun to watch our guys," Campbell said. "I saw growth."
THE TAKEAWAY
IOWA ST.: The Cyclones, who clearly weren't ready for Big 12 competition, are still working to figure out their quarterback situation. As expected, junior Joel Lanning (12-21 passing for 127 yards) and former Georgia transfer Jacob Park (7-15 for 90 yards) both played.
Campbell said he believes both quarterbacks can help Iowa State.
"We'll just keep manufacturing and working. I think that's a great situation when you have two guys you really believe you can have success with," Campbell said. "Both guys like each other, both guys are helping each other on the sidelines."
Lanning did have two scoring runs, including an impressive 8-yard TD run when he kept driving his feet and got a push from running back Mitchell Harger after initially being stacked up short of the end zone.
TCU: While the Frogs got the lopsided victory to start Big 12 play, the competition for the next conference game will be much tougher when No. 14 Oklahoma visits in two weeks. Coach Gary Patterson was far from satisfied with what he perceived as a lack of emotion, especially coming off the loss the previous week.
"It's a win, simple as that," Patterson said. "Not happy ... but it's a win."
Hill, who had slow starts and strong finishes his first two starts, threw for 219 yards with a touchdown while running for 28 yards and another score while playing only three quarters. The defense had five sacks, matching their total from the first two games combined.
ALL-PURPOSE HURT
Frogs receiver and returner KaVontae Turpin sustained an apparent left leg injury and had to be helped off the field early in the third quarter. He got hurt the play before Hicks' TD catch, though Patterson had no update after the game.
Turpin entered the game the national leader with 236 all-purpose yards per game, but had only two catches for 8 yards and one kickoff return for 28 yards.
POLL IMPLICATIONS
TCU dropped from 15th in the AP Top 25 to the first team in others receiving votes after the Arkansas loss. Depending on what happens in the bottom part of the poll, the Frogs could move back into the poll Sunday.
NUMBERS GAME
Allen Lazard extended his Iowa State record for consecutive games with a reception to 26 games. But he was held to only one catch for 8 yards after entering the game as the Big 12 leader with 120 yards receiving a game and the first Cyclones player since 2003 with consecutive 100-yard receiving games. ... Iowa State's Mike Warren had 23 carries for 95 yards. ... Since the start of the 2014 season, TCU is 25-4 overall and 16-3 in Big 12 play — both marks the best in the league over that span.
UP NEXT
IOWA ST: Another pre-noon kickoff for the Cyclones next Saturday when they go home to play San Jose State in their last non-conference game.
TCU: The Horned Frogs close out their non-conference schedule Friday night, about 40 miles away at former Southwest Conference foe SMU.