TCU ranked No. 10 in AP Top 25, highest in program history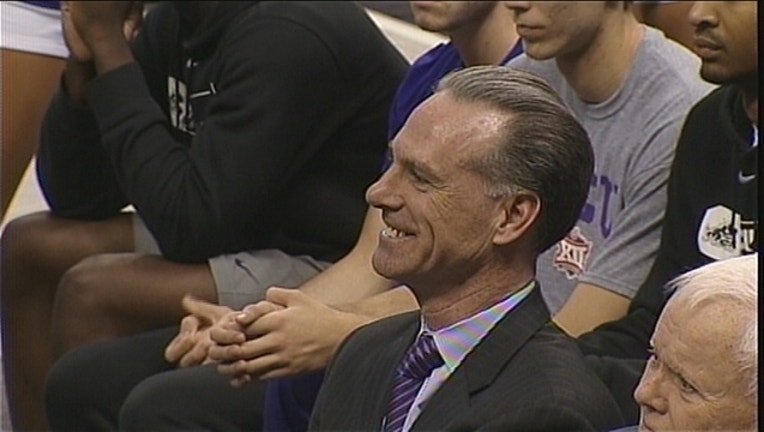 article
Villanova stayed comfortably at No. 1 in an AP Top 25 poll that offered little change at the top.
The top four teams stayed the same in Monday's new poll , led by the Wildcats (12-0) receiving 43 of 65 first-place votes to stay at No. 1 for the third straight week. No. 2 Michigan State (12-1) was second and had 16 first-place votes, while third-ranked Arizona State (12-0) had six first-place votes to stay ahead of No. 4 Duke (12-1).
Those four teams won their six games last week by an average margin of 39.7 points, leaving their coaches to focus on tuning elements of their games before the bulk of conference play takes hold.
"I guess if you were to ask me where do you want to be at Christmas: would you like to be winning games by an average of 20 points a game ... and can you be 12-1?" Michigan State coach Tom Izzo said after last week's 102-60 win against Long Beach State. "I think I'd have taken that. Plus I'm seeing improvement."
For the preseason No. 1 Blue Devils, in particular, a lighter December schedule due to exams and the holidays has offered some needed practice time following a travel-filled opening month.
"We had some good practices so we looked better defensively and hopefully we will continue to do that," Duke coach Mike Krzyzewski said after last week's 104-40 win against Evansville. "Once we get back we have a tough game (against No. 24 Florida State), but we'll have more continuity. And that's what this group needs, a young group especially needs the continuity."
CHANGES IN THE TOP 10
Texas A&M (11-1) climbed to fifth, followed by Xavier, West Virginia, Wichita State, Virginia and TCU to round out the top 10. Those teams all climbed between three and five spots.
TCU (12-0) has the nation's longest winning streak at 17 games dating to last season's NIT championship after Friday's win against William & Mary , and now has the highest ranking in program history.
TOP RISERS
Joining TCU in rising five spots is No. 12 Oklahoma, led by freshman star Trae Young. No. 9 Virginia is up four spots.
LONGEST SLIDES
Four ranked teams took big slides after losses to unranked opponents last week.
Miami and Kentucky both fell nine spots to Nos. 15 and 16 in the biggest slides of the week after the Hurricanes lost to New Mexico State in the Diamond Head Classic and the Wildcats lost to UCLA in the CBS Sports Classic in New Orleans.
Reigning national champion North Carolina fell eight spots to No. 13 after its home loss to Wofford , snapping a 23-game home winning streak. Now-No. 20 Gonzaga also fell eight spots after its loss to San Diego State .
STANDING PAT
In addition to the four teams at the top, four more teams - No. 18 Baylor, No. 23 Seton Hall, No. 24 Florida State and No. 25 Creighton - stayed in the same spot as last week.
NO NEW FACES
There were no newcomers or departures from this week's poll, with 11 teams climbing and six falling in addition to the eight staying in the same slot.
___
More AP college basketball: http://collegebasketball.ap.org and http://www.twitter.com/AP_Top25
___
Follow Aaron Beard on Twitter at http://www.twitter.com/aaronbeardap