TCU rallies past Iowa State 89-83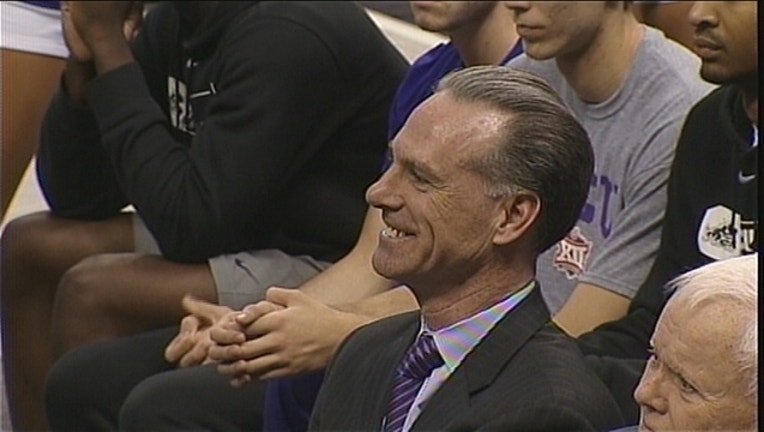 article
AMES, Iowa (AP) - A grieving Donovan Jackson played his heart out for an Iowa State team that needed all the help it could get.
In the end it wasn't enough, as TCU eventually overwhelmed the undermanned Cyclones to avoid an untimely bad loss.
Desmond Bane had 27 points, including a crucial late dunk, and the Horned Frogs rallied to beat Iowa State 89-83 on Wednesday night for their second straight win.
Alex Robinson scored 18 points with six assists and Kouat Noi added 17 for the Horned Frogs (19-9, 7-8 Big 12), who reached seven wins in league play for the first time since they went 7-7 in the Mountain West Conference in 2012.
"I proud of the guys and the way they did it because (Iowa State) came out playing with emotion with all the things they have going on," TCU coach Jamie Dixon said. "We responded and held them off."
Jackson, playing in his first game since learning of his father's death over the weekend, scored 17 first-half points as the Cyclones - who dressed just seven players - jumped ahead 47-41.
But Jackson cooled off and TCU got hot, going on a 15-4 run early in the second half.
Noi then hit a jumper and Robinson added a free throw with 1:16 left to make it 83-78 and Lindell Wigginton turned it over on an air-balled 3. The Frogs then found Bane for an uncontested dunk, and they held on at the free throw line.
"It's going to be a different guy every night. It's been like that the whole season, and tonight happened to be my night," Bane said.
Jackson finished with 27 points for Iowa State (13-14, 4-11), which announced on Tuesday that starters Nick Weiler-Babb and Solomon Young would be out, likely for the rest of a season that could be over in just two weeks, because of knee trouble.
Weiler-Babb had been battling tendinitis for weeks, while Young had successful arthroscopic surgery on Tuesday.
Iowa State coach Steve Prohm said that Jackson learned on Saturday that his father had died of yet-unknown causes, and Jackson returned to Ames after visiting his family in Milwaukee.
Jackson's father's funeral is Saturday, and Jackson will miss that day's matchup against West Virginia.
"I just know that he would want me to come out here and compete," said Jackson, who broke down while recalling that his father wouldn't be calling him to dissect how he played. "He always used to tell me to attack the basket and get to the free throw line, and I got to the free throw line 10 times, so I know he's happy about that."
BIG PICTURE
TCU: With home games against Baylor and Kansas State coming up, the Horned Frogs have a chance to finish .500 in the toughest league in America. That'll likely go a long way with the NCAA Tournament committee.
Iowa State: This was a culture win for Prohm. The Cyclones had every excuse in the world to pack it in and wait for next season, but they battled for each other and for Jackson after a dismal showing in a loss to Kansas State over the weekend. But it's hard to win a close game down the stretch with six guys, as freshman Terrence Lewis fouled out with 5:26 left.
THE NUMBERS
Wigginton had 14 points on 5-of-13 shooting, and fellow freshman Cameron Lard had 14 points with eight rebounds. ...TCU went 16 of 20 at the line. ...Zoran Talley scored 12 points on 6-of-9 shooting for the Cyclones. ...The Horned Frogs committed 15 turnovers to just nine for Iowa State. ...Vlad Brodziansky had 14 points but just three rebounds for TCU.
HE SAID IT
"It puts a lot of things in perspective. Yeah, you're losing. You want to do a better job. But Donovan is a 22-year-old senior with the whole world in front of him. He'd probably give everything in the world to have one more conversation with his father. I can't even imagine what it's like," Prohm on Jackson.
UP NEXT
TCU hosts the Bears on Saturday.
Iowa State plays at West Virginia on Saturday.
___
More AP college basketball: http://collegebasketball.ap.org and http://www.twitter.com/AP_Top25