TCU confident in young Robinson going into Iowa State game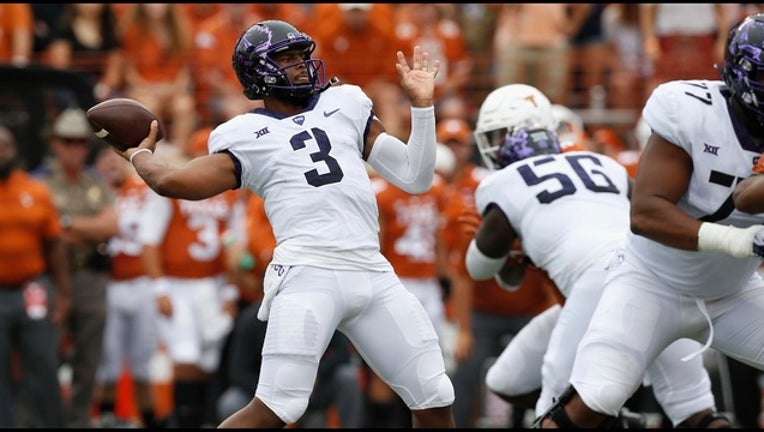 article
FORT WORTH, Texas (AP) - Gary Patterson recalled early mistakes made by some of TCU's former quarterbacks, then talked about how good those players turned out for the Horned Frogs.
The coach expects sophomore Shawn Robinson will be just fine after a rash of turnovers , four interceptions and two fumbles as TCU lost consecutive regular-season games for the first time since the end of the 2013 season.
"My whole point ... all of them, at the end of the day before they were seniors, they all ended up being good quarterbacks," Patterson said. "And they all had their moments when they were younger."
Robinson didn't finish last week's loss at Texas after taking a big hit late. Patterson said he was dealing with some shoulder problems, but will Saturday when the Horned Frogs (2-2, 0-1 Big 12) host Iowa State (1-2, 0-1).
Andy Dalton had more interceptions than touchdowns as a freshman in 2007, and at one point was told he'd be taken out of the game if he threw another pick. TCU went 34-3 the next three years, and his final game was a Rose Bowl victory to cap an undefeated 2010 season.
Trevone Boykin went from three interceptions in his first QB start in 2012, against Iowa State, to a 12-1 record and a share of the Big 12 title two seasons later. Former transfer Kenny Hill was 6-7 in his 2016 debut season with the Frogs before leading them to the Big 12 championship game last year.
"Basically Shawn's a redshirt freshman," Patterson said. "Do we need to clean things up? We need to clean things up. Nobody's panicking, nobody's going anywhere. ... Except for about five minutes in the third quarter of two ballgames, we haven't been struggling."
Robinson had a fumble and an interception on consecutive drives in the third quarter against Texas, which was trailing before converting both of those miscues into touchdowns to go ahead to stay.
A week earlier, No. 4 Ohio State intercepted a shovel pass and returned it for the second of its three TDs in a four-minute span of the third quarter. That wiped out a halftime deficit and gave the Buckeyes the lead for good after blowing an early 10-0 lead they got following a strip-sack of Robinson in the end zone.
"Shawn's getting better every day," TCU defensive end Ben Banogu said. "He's young, so he's going to go through those situations ... it's just learning from his mistakes and trying to be smarter and trying to be more efficient when he's out there."
KEMPT STILL SIDELINED
Kyle Kempt, Iowa State's sixth-year quarterback, is still 2-3 weeks away from being fully healthy to play on Saturdays.
"It's where you would see him ready to play a game," coach Matt Campbell said.
Kempt sustained an MCL injury in his left knee in a loss at Iowa on Sept. 8. Sophomore Zeb Noland has completed 55 of 80 passes for 636 yards and three TDs with one interception.
REMEMBER LAST YEAR
Iowa State won 14-7 when the two teams played last year in Ames, where TCU's only score came on a kickoff return by KaVontae Turpin. The Cyclones last year beat Oklahoma and TCU, the two teams that made it to the Big 12 championship game. The No. 6 Sooners have already avenged their 2017 loss, beating Iowa State 37-27 in the Big 12 opener two weeks ago.
MORE TURNOVERS
Iowa State has lost three fumbles already in three games this season. The Cyclones had only one lost fumble all last season. Campbell declared turnovers a "high red alert" for his team going into Big 12 play.
RARE STRETCH
TCU played away from home in three consecutive weeks for the first time since 2011, but didn't leave the state of Texas during that span. After opening at home with a win over Southern University, the Frogs played at SMU in Dallas, then took on Ohio State at the home stadium of the Dallas Cowboys in Arlington, about 20 miles from their campus, before the Big 12 opener at Texas.
___
More AP college football: https://apnews.com/tag/Collegefootball and https://twitter.com/AP_Top25