Syracuse tops TCU 57-52 to advance again in NCAA Tournament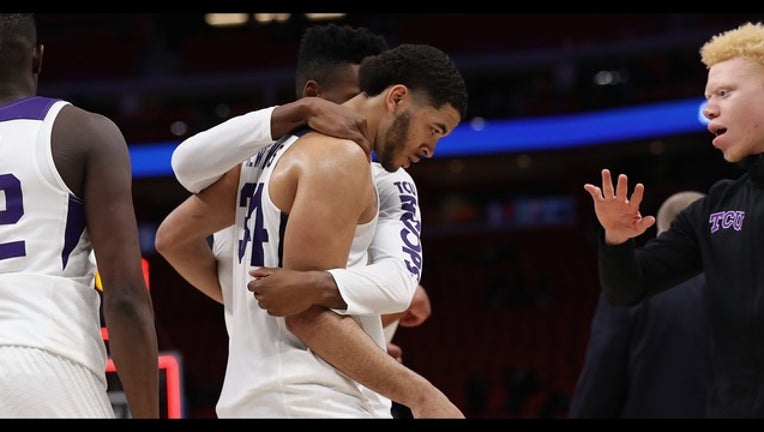 article
DETROIT (AP) - Marek Dolezaj scored 17 points before fouling out and 11th-seeded Syracuse shut down sixth-seeded TCU for a 57-52 victory in the Midwest Region of the NCAA Tournament on Friday night.
The Orange (22-13) won for the second time in the tournament and advanced to face third-seeded Michigan State on Sunday by holding off the Horned Frogs with another impressive defensive effort. Both teams shot under 40 percent from the field.
TCU (21-12) is still without an NCAA Tournament victory since 1987, when coach Jamie Dixon was a player. This was the school's first appearance since 1998, and it was short-lived.
There was little doubt who won the much-anticipated matchup between TCU's excellent offense and Syracuse's zone defense. The Horned Frogs were held 31 points below their season average.
Syracuse led 50-49 before mid-range shots by Tyus Battle and Frank Howard pushed the lead to five. That margin was plenty in this game.
A tight, compelling contest throughout, the game nevertheless had an odd feel, with Little Caesars Arena having mostly emptied out after the Michigan State-Bucknell game. TCU and Syracuse played in front of a handful of fans who at times seemed as interested in periodic Virginia-UMBC updates as what was going on in front of them on the court.
TCU struggled offensively throughout, but the Horned Frogs did score eight straight points to finish the first half with a 28-27 lead.
BIG PICTURE
It's March, and Syracuse again looks like a threat after barely making the NCAAs as the last team selected for the field of 68. The Orange weren't impressive at all on offense, but it didn't matter. Now it'll be Michigan State coach Tom Izzo's turn to try to solve that 2-3 zone.
TCU had one real highlight on the night - an alley-oop pass from Alex Robinson to Kenrich Williams near the end of the first half that traveled about three-quarters of the length of the court.
UP NEXT
Syracuse had to beat Arizona State in the First Four to start this tournament, so the game against Michigan State will be its third in five days.
The offseason comes earlier than TCU would like, but the program is clearly making progress under Dixon.
___
More AP college basketball: https://collegebasketball.ap.org; https://twitter.com/AP_Top25 and https://www.podcastone.com/ap-sports-special-events
___
Follow Noah Trister at www.Twitter.com/noahtrister