Super Frogs: TCU wins 4th straight regional, 15-3 over DBU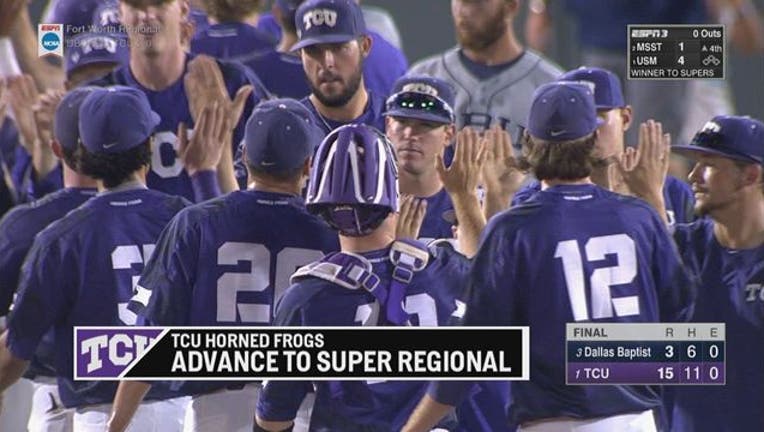 FORT WORTH, Texas (AP) - Evan Skoug and Josh Watson both homered to back a strong outing by Brian Howard, and TCU advanced to its fourth straight NCAA super regional with a 15-3 win over Dallas Baptist on Monday night.
The Horned Frogs (45-16) swept through the Fort Worth Regional and will remain at Lupton Stadium next weekend to play Missouri State in a best-of-three series. TCU, the No. 6 national seed, is trying to get to the College World Series for the fourth year in a row.
After beating Virginia in an elimination game earlier Monday, the Patriots (42-21) led TCU 2-0 on Matt Duce's two-run homer in the first inning. Those were the only runs Howard (10-3) allowed in 6 2/3 innings.
DBU starter Gavin Fritz (0-1) was lifted after two walks and a hit batsman loaded the bases without an out in the second. Reliever Jimmy Fouse was greeted by Connor Wanhanen's two-run single, and the Frogs went ahead when another run scored on a double-play grounder.
TCU added six runs in the third, including Watson's two-run homer and Nolan Brown's two-run single. Skoug's three-run shot in the sixth was his 18th homer of the season.
Devlin Granberg led off the ninth with a home run, Dallas Baptist's 13th in four regional games and 97th of the season.