Suns top Mavs 124-97 as reserves rule for lottery teams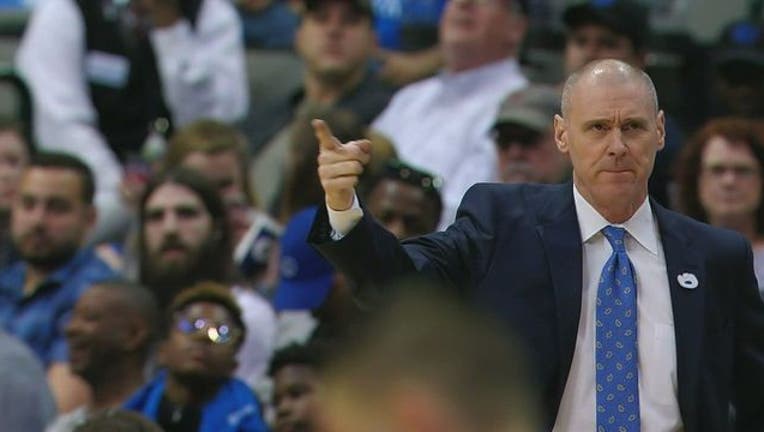 article
DALLAS (AP) -- Rookie Alec Peters scored a career-high 36 points and the Phoenix Suns beat the Dallas Mavericks 124-97 on Tuesday night in a reserve-filled finale for two teams headed to the lottery.
 
The Mavericks (24-58) entered the game tied for the third-worst record in the NBA and stayed that way while sitting eight players. That included star Dirk Nowitzki, whose 20th season ended last week when he had ankle surgery. 
 
Atlanta finished with the same record after losing at home to Philadelphia 121-113. Orlando can join the Mavericks and Hawks with a loss at home to Washington on Wednesday. 
 
Phoenix (21-61), which had already clinched the worst record and best lottery odds for the No. 1 pick in the draft in June, also didn't dress eight players. The Suns won for the second time in 19 games to wrap up their third straight season with at least 58 losses.
 
Johnathan Motley led Dallas with 21 points.
 
Peters, who had 46 points total in 19 previous games, was 8 of 13 from 3-point range. The Suns shot 76 percent in the second half while outscoring the Mavericks 80-43. It matched the most points the Mavericks have given up in a half.
 
TIP-INS
 
Suns: The four players not already listed as out who sat were Devin Booker (right hand sprain), Troy Daniels (left ankle sprain), T.J. Warren (left knee inflammation) and Marquese Chriss (lower back/leg pain).
 
Mavericks: The two players not already listed as out who didn't play were Doug McDermott (left elbow contusion) and rookie guard Dennis Smith Jr. (left knee soreness). Leading scorer Harrison Barnes was listed as rest.
DIRK FOR 21
 
Nowitzki revealed that he spent all season dealing with bone spurs in his left ankle that finally resulted in surgery last week. The German star has maintained that he planned to return next season, which would make him the first to play 21 seasons with the same franchise.
 
The timing of the surgery was designed to give Nowitzki plenty of time to recover for his offseason regimen. He said he would spend about three weeks in the walking boot he wore in his meeting with reporters before the game.
 
"I didn't miss a lot of games this year," said Nowitzki, who played 77 games, a record for a player in his 20th season. "I felt fine most of the time. I always said all year that I want to fulfill that two-year contract if possible. I saw nothing this year that was going to stop it."
 
The club has an option on the second year of the deal, but owner Mark Cuban has always said Nowitzki will decide what happens with the contract.
 
UP NEXT
 
Suns: C Tyson Chandler could be attractive in an offseason trade with one year left on a contract that averages $13 million per season. He was a key piece of the Dallas championship in 2011, and returned in a trade with the New York Knicks three years later with one year left on a four-year contract. Chandler signed with the Suns when the Mavericks tried hard to lure DeAndre Jordan away from the Clippers. After initially agreeing to sign with Dallas, Jordan changed his mind and stayed in LA.
 
Mavericks: They seem committed to keeping Barnes, who has two years left on a $94 million, four-year max deal he signed two years ago. The most likely piece in a trade would be G Wesley Matthews, who is going into the final year of a $70 million, four-year deal that got richer when Jordan backed out on the Mavs. While Matthews returned from a ruptured Achilles tendon much quicker than usual in his first season and was durable thereafter, he hasn't been the difference-making scorer Dallas needs.
 
------
 
More AP NBA: https://apnews.com/tag/NBAbasketball