Successful replay challenge helps Rangers beat Angels 4-2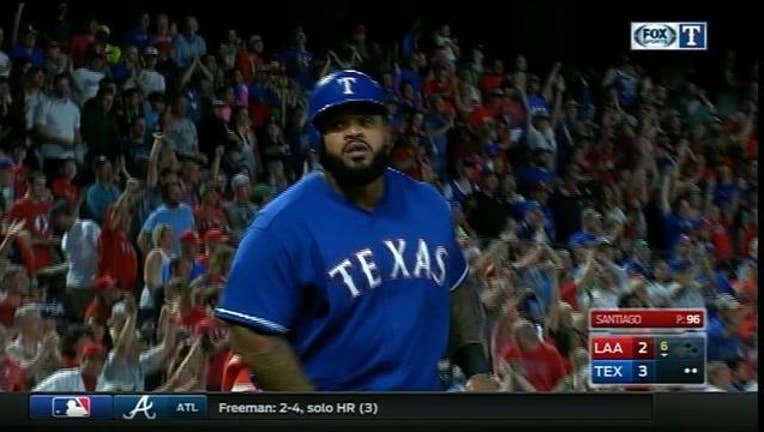 article
ARLINGTON, Texas (AP) — Persistence and patience paid off for the Texas Rangers in their 4-2 win over the Los Angeles Angels on Friday night thanks to a replay review.
A potential Angels rally was blunted in the sixth inning following a successful Rangers challenge that showed Albert Pujols briefly lost contact with second base while second baseman Rougned Odor kept the tag on. What would have been runners at first and second with none out changed dramatically, and Texas added to a 2-1 lead in the bottom of the inning with three runs.
Ian Desmond continued his batting surge with two hits, including the go-ahead double in the sixth.
Colby Lewis (2-0) allowed two runs and nine hits in seven innings to reverse his fortunes against the Angels. He went into the game 6-11 all-time against Los Angeles with a 6.82 ERA.
Pujols said he was shifting his feet after pulling in following Kole Calhoun's single to center field and thought he'd maintained contact.
"You can't probably squeeze a piece of paper through there," he said. "I don't think that's what replay was meant to be."
"Now, the camera sees everything," Odor said. "I just want to stay with the runner all the way. Until they call time out."
"We challenge all of our infielders to keep the tag on," Texas manager Jeff Banister said. "It's not something that they were used to last year."
"The slightest little hop you have - you're off the base and the glove's on you — they're going to look for that," Angels manager Mike Scioscia said. "It's the basic rule; you have to be on the bag."
Lewis had no issue being pulled after throwing a season-low 80 pitches.
"It's a long season," said Lewis, 36, who led the club last season with 204 2-3 innings. "I want to make all my starts and put the Ranger uniform on again for next year. I threw seven innings - seven strong innings - and kind of outlasted the other guy."
Hector Santiago (2-1) went into the game tied for sixth in the American League in opponents' batting average (.179). He allowed all four runs and a season-high eight hits in 5 2-3 innings.
Lewis didn't record a strikeout for the first time in 117 regular season and postseason starts, since May 2011.
"A couple of 0-2 counts, they got hits," he said. "Pretty frustrating, but that's the way it goes sometimes."
Desmond doubled past third baseman Yunel Escobar's backhand attempt as Texas scored three times with two out. He's hitting .394 in his last 10 games after hitting .091 in his first 12.
Ryan Rua hit a two-out homer for the Rangers in the fifth inning, his first of the season. He was 3-for-8 previously against Santiago.
Shawn Tolleson earned his eighth save, tied for the league lead, and his seventh straight.
LIKE FATHER
Prince Fielder's game-tying single in the sixth gave him 1,000 career RBIs. He and father Cecil (1,008) joined Bobby Bonds (1,024) and son Barry (1,996) as the majors' only father-son duos each with 1,000 or more.
"Being in the company of those guys is a big deal," Fielder said.
SIX-MAN ROTATION?
Banister said he might consider a six-man starting rotation when Yu Darvish is activated, which could be in four to five weeks. Banister said two factors in favor of that would be Darvish and Lewis having pitched in that format in Japan plus Darvish, Derek Holland, Martin Perez and A.J. Griffin coming off short seasons. Texas is scheduled to play 43 games in 45 days, May 27-July 10.
TRAINER'S ROOM
Angels: The issue with LHP Tyler Skaggs (shoulder) has grown from fatigue to tightness. Skaggs will be evaluated further in California.
Rangers: The rehab of OF Josh Hamilton (knee) will move to Double-A Frisco beginning Saturday. RHP Davish (Tommy John surgery) will begin his at Frisco on Sunday.
UP NEXT
Angels RHP Matt Shoemaker (1-3) has the AL's eighth-lowest road ERA (1.46). In Globe Life Park, considered a hitter's park, he has a 2.89 ERA in three career starts. Texas LHP Derek Holland (2-1) will start on five days' rest for the first time this season. He's 9-6 in 24 career appearances against the Angels with a 5.52 ERA.