Strong to get more involved, Texas defense 'will get fixed'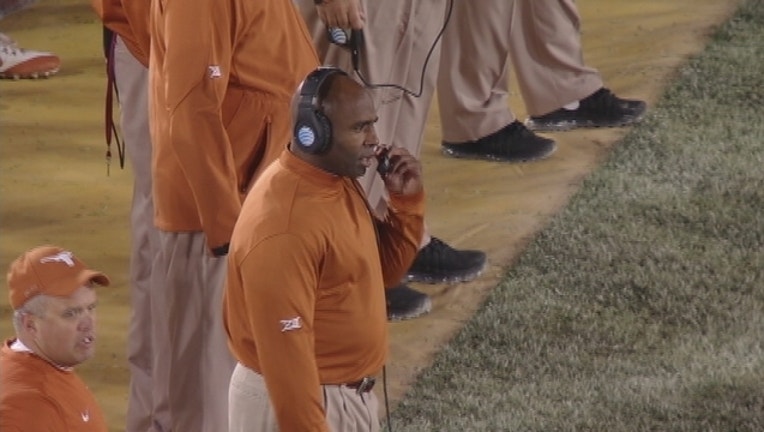 article
AUSTIN, Texas (AP) — Texas coach Charlie Strong said Monday he will take a bigger role shaping his battered defense and that all of his coaches "will be evaluated" after giving up 50 points in a loss at California over the weekend.
"We've got two weeks to look at it. I've been involved in the defense. I can get more involved and I will be more involved," said Strong, a former defensive coordinator at Florida when the Gators won national championships in 2006 and 2008.
Strong backed away from suggestions he take over game-day defensive calls from coordinator Vance Bedford, a close friend who has worked with Strong for years.
"There's other guys sitting there that have the capability to take over the defense," Strong said. "It will get fixed. The defense will get fixed. I can tell you that. Whatever I need to do to get it fixed, it's gonna happen. We'll get it fixed."
No. 21 Texas (2-1) is off until starting Big 12 play Oct. 1 at Oklahoma State (2-1).
Strong has made big midseason staff changes in the past. In 2015, Strong demoted former offensive coordinator Shawn Watson after the first game. It made scant difference as Texas finished 5-7.
Strong wants to avoid hitting the panic button so soon after Texas' 2-0 start revived the Longhorns' fan base after two consecutive losing seasons. But watching Cal quarterback Davis Webb carve up the Longhorns secondary raised serious concerns heading into the Big 12, a league where offenses flourish.
Texas had problems all over the backfield, from broken coverages to players getting physically beaten in matchups. Even when Texas beat Notre Dame 50-47 in their season opener, the Longhorns surrendered five passing touchdowns. Strong said coaches and players will be held accountable for the failures.
"You've got to coach it. Coach it hard. Don't say to me, 'Well, I told him,'" Strong said.
Texas defensive players defended their coach and called the breakdowns a lack of communication on the field.
Safety Dylan Haines predicted Texas won't hit a slide similar to last season when the Longhorns lost four of their first five games.
"This is not going to turn into what it did last year. We're going to get it fixed," Haines said.
But the defensive struggles aren't new. Texas gave up at least 30 points six times last season. Against Cal, Texas twice led by 10 points in the first half and grabbed the lead again late in the second. Only a fumble at the Texas 1 prevented Cal from tacking on another late touchdown in the final minute.
The loss dropped Strong to 13-15 overall at Texas and he is widely considered to be under enormous pressure to win this year to keep his job.
After his second losing season, Strong hired coordinator Sterlin Gilbert to rev up his offense, but stuck with Bedford as his defensive coordinator. The Longhorns have averaged 45 points over the first three games and surrendered an average of 35.
Freshman quarterback Shane Buechele shrugged off the defensive woes.
"There's no finger pointing. We all trust each other," Buechele said.
Strong was too trusting of his defense Saturday night. Facing fourth-and-long from his own 20 late in the game, Strong opted to punt and hope his defense could get a stop. Cal instead ran out the clock.
"They're frustrated," Strong said of his players. "They know we let one get away from us."