Strong 'knew all along' about his quarterback duo at Texas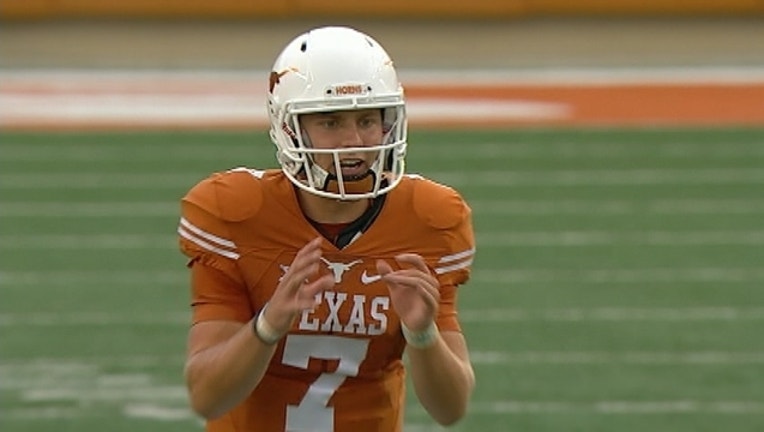 article
AUSTIN, Texas (AP) — Texas coach Charlie Strong says he "knew all along" what he had at quarterback. He just chose not to tell anyone.
What Strong and the Longhorns unveiled against Notre Dame on Sunday was an impressive combination of finesse and power in freshman Shane Buechele and senior Tyrone Swoopes.
Unlike other quarterback rotations that struggled, Texas' worked to near perfection in a 50-47 double overtime win. Buechele got the start and passed for 280 yards and two touchdowns in pushing the Longhorns to a 31-14 lead.
Swoopes then delivered the crunching blows in overtime and scored the game winner on a 6-yard lunging touchdown run against an exhausted Irish defense.
Expect to see more of that 1-2 punch from Texas this season.
"I think we can make it work," Strong said Monday. "We can spread people out, but we have a physical aspect to us. We can pound people when we want to. We can go vertical."
Buechele was the first freshman to start a Texas season-opener since Bobby Lane in 1944. His first drive ended with a 19-yard touchdown pass to Armanti Foreman on a perfectly thrown ball on the edge of the end zone. His 72-yard, in-stride throw to John Burt on the second play of the third quarter opened up a 28-14 lead.
Swoopes ran for a touchdown in the second quarter, then pounded Notre Dame with two more in overtime. It was no secret what Texas wanted to do with him; Notre Dame just couldn't stop it. At 6-foot 3, 250 pounds, Swoopes runs straight ahead and crashes into tacklers at full force.
Swoopes finished with 53 yards on 13 carries and attempted only one pass.
"If you're not 250 pounds, you're probably not going to tackle Tyrone," Texas defensive lineman Naashon Hughes said.
Texas has been excited about quarterbacks in recent years only to be disappointed. Garrett Gilbert was the heir to Colt McCoy but transferred after a losing season in 2010 and an injury in 2011.
Last season, Jerrod Heard teased the Longhorns when he broke Vince Young's school record for most yards in a game rushing and passing and later led an upset win over Oklahoma. But Texas finished 5-7 and Heard's fall was so swift he's now playing receiver . He caught a 68-yard pass from Buechele on Sunday night.
Buechele stepped on campus in the spring and immediately marched toward the job as opening-game starter.
"I love this offense I'm in right now," Buechele said.
The freshman also showed some leadership. Publicly, he defers to Swoopes as the leader, but Buechele was one of the first players to approach Burt after the receiver dropped a sure touchdown in the first quarter.
"He came up to me and said, 'Keep your head up,' and that there would be more coming," Burt said.
Strong had a message for his team, one that could have just as easily been directed at his quarterbacks, to keep their focus after a big victory.
"To get people to believe in you, you have to give people a reason," Strong said. "Last night was a step forward ... This can't be a one-night wonder."
___
Online: AP college football website: http://collegefootball.ap.org