Streaking Michigan routs Texas A&M 99-72 in West semifinals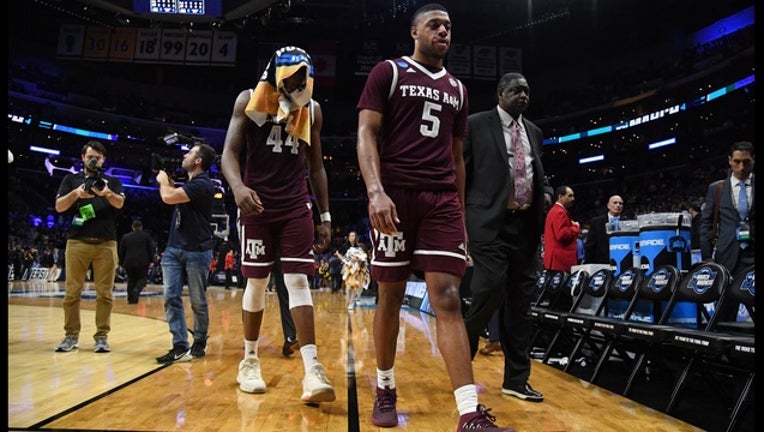 article
LOS ANGELES (AP) - This one was easy.
After reaching the NCAA Tournament's round of 16 with an improbable buzzer-beater, Michigan shot 62 percent from the floor and routed Texas A&M 99-72 in the West Region semifinals on Thursday night to reach the Elite Eight for the third time in six years.
Next up the Wolverines will face either No. 4 Gonzaga or No. 9 Florida State who met in the second regional semifinal.
The Wolverines (31-7) dominated from start to finish, hitting 14 3-pointers - 10 in the first half - and extending their winning streak to 12 games.
Muhammad-Ali Abdur-Rahkman scored 24 points, Moe Wagner added 21 points and Charles Matthews had 18 points as third-seeded Michigan had five players in double figures.
"My shot went in early and it gives you the confidence to take the next one," Abdur-Rahkman said. "I think everyone had that confidence today."
Abdur-Rahkman made four 3-pointers and both of his free throws, and had five rebounds and seven assists.
"This senior right here played his tail off in every single way," Michigan coach John Beilein said. "This is like a great example of a great college basketball player that can play afterwards, too."
The Wolverines were good in the first half and even better in the second. The rout was on by halftime with Michigan leading 52-28 after shooting 57 percent from the floor. In the second half, the Wolverines improved to 68 percent from the floor.
"We are on a business trip, and we still have business to take of," Abdur-Rahkman said.
The Aggies (22-13) never made a run, going long stretches without a basket in the first half while Michigan was scoring on nearly every trip down the floor.
Tyler Davis led the seventh-seeded Aggies with 24 points.
Michigan won its second round game to reach the Sweet 16 on freshman Jordan Poole's long 3 at the buzzer against Houston.
Against the Aggies, Michigan led by 29 points after an 8-0 run near the end of the first half. The Wolverines averaged nine 3-pointers per game coming in and exceeded that by the break.
Michigan held the Aggies to 12-of-32 shooting from the floor by double-teaming A&M and getting hands in shooters' faces.
The Wolverines had 12 steals in the game, led by Zavier Simpson with six.
The Aggies committed 10 of their 14 turnovers in the first half, including five by T.J. Starks.
They improved to 57 percent shooting in the second half, but it didn't make any difference when the Aggies couldn't come close to reducing their deficit to single digits.
___
More AP college basketball: https://collegebasketball.ap.org ; https://twitter.com/AP_Top25 and https://www.podcastone.com/ap-sports-special-events