Stephen Jones: players will stand for anthem 'if they want to be a Dallas Cowboy'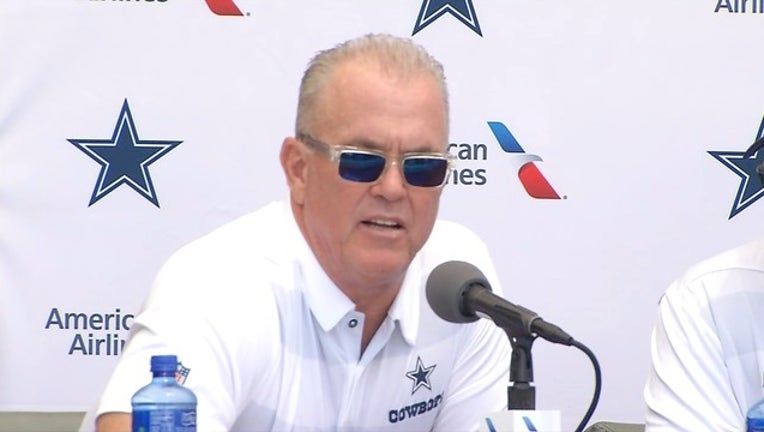 Stephen Jones reiterated his father's zero-tolerance stance on Cowboys players protesting during the national anthem on Thursday.
Cowboys owner Jerry Jones said during Wednesday's opening press conference for training camp that the team's players will stand for the anthem "toes on the line" and be punished if they opt to stay in the locker room.
Stephen, the team's COO and Director of Player Personnel, said during an interview with KTCK 1310 AM (The Ticket) on Thursday that there's no wiggle room on ownership's expectations. He was asked if he believed players would comply.
"If they want to be a Dallas Cowboy, yes," Stephen said.
Stephen said there's an organization-wide belief on how to handle the anthem.
"We feel strongly about it. We don't think it's a controversy. We just think that's the way we do it. Jerry feels strongly about it. I think he's had a good feel for what our organization should be over 30 years. I think it's paid off for our players for the most part," Stephen said.
He added that game day is not the time for players' causes to take center stage. He believes that's best left to time players are off the field.
"When you're wearing the Dallas Cowboy uniform and a Dallas Cowboy helmet and you're working for the Dallas Cowboys, you check the 'I' and the 'me' at the door and you're a part of a team. There's bright lines in terms of our organization."
Last week, the NFL and the players' union agreed to suspend a rule approved by owners in the spring that gave players the option of staying in the locker room while allowing teams to discipline players who took a knee or sat during the anthem.
The issue became a lightning rod in the nation's culture wars during last season when President Donald Trump attacked players who kneeled during the anthem at a rally.