Stars stumble on road for second straight night, lose 3-0 at Devils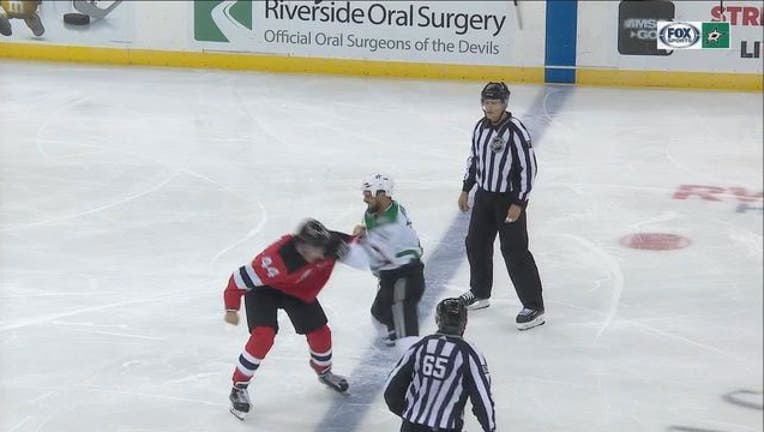 article
NEWARK, N.J. (AP) - The New Jersey Devils have found a perfect combination for the start of the season.
Kyle Palmieri scores early and goaltender Keith Kinkaid makes the lead stand up.
Palmieri scored his seventh goal in four games, Kinkaid stopped 24 shots for his second shutout and the Devils continued their best start since the 1995-96 season with a 3-0 win over the road-challenged Dallas Stars on Tuesday night.
Palmieri is now the first player in NHL history to score his team's opening goal in four consecutive games to begin a season.
"It's nice to get rewarded for putting pucks on net but I think it's fun to come to the rink right now," Palmiery said. "The team is in a good mood and we're happy with the way we're playing and beating some really good teams so hopefully we keep that going."
Kinkaid has been a big reason for that. He has given up four goals in four games.
The 29-year-old who became the Devils' No. 1 goalie after Cory Schneider was hurt last season, said he feels confident.
"I have a shot to play a few games in a row and I think I play my best that well because then you don't have to dwell on a week or two weeks so that's huge in a goalie's play," Kinkaid said. "I'm just doing my part and the guys are doing a great job."
Palmieri said Kinkaid took a big step last season when he got the No. 1 job.
"I don't know how much as a goalie it rolls off the year before, but he played tremendous down the stretch and he gave us a chance to win every night and ultimately propel us into the playoffs," Palmieri said. "As a goalie, and as a hockey player in generally, it just gives you the confidence that you know you can do it."
Late pickup Jean-Sebastien Dea tallied for the third straight game and Blake Coleman added a goal as the Devils remained the NHL's only unbeaten team.
Anton Khudobin made 31 saves as Dallas lost for the second time in as many nights. It marked the first time it had been shut out.
The Stars went 42-32-8 last season but they were only 16-20-5 on the road.
"We have to look in the mirror and talk about it, make some adjustments," said Stars forward Tyler Seguin, who hit a couple of goalposted. "It's happened the last two years. I am not pressing the panic button, it's only two games, we have to figure some stuff out here."
Palmieri, who had two goals in each of the first three games, put the Devils ahead at 3:42 with his fourth power-play goal of the season.
Coleman stretched the lead 2:03 into the second period with a shot from the right circle.
Dea's goal came from the left circle with Khudobin playing without a stick late in the second period. He broke it on a check and then played about 45 seconds as it lay on the ice. He waved to his bench for a replacement but got no help.
Kinkaid had a great glove save on Jamie Benn and a glove stop on Radek Faksa on an odd-man rush in the second period. In the third period, he also stopped Roope Hintz, Mattias Janmark and Gemel Smith in the final 2:17 to preserve his sixth career shutout.
NOTES: The Devils have used the same lineup all four games. F Drew Stafford and Ds Steven Santini and Eric Gryba have not played. ... Taylor Hall cost the Devils a two-man advantage in the first period when he was called for delay of call for deliberately shooting the puck into his own bench to stop play. ... Jamie Benn of Dallas and Miles Wood of New Jersey exchanged haymakers in a big third-period fight.
UP NEXT
Stars: Return home to host Minnesota on Friday night.
Devils: Host Colorado on Thursday night.
___
More AP NHL: https://apnews.com/tag/NHL and https://twitter.com/AP_Sports