Stars sign newly acquired goalie Niemi to 3-year contract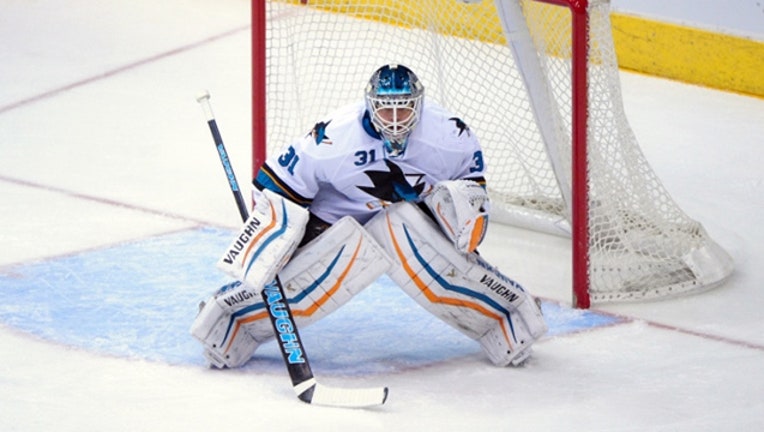 DALLAS (AP) -- Antti Niemi used to live not far from Finnish countryman Kari Lehtonen. Now the pair will share a locker room in Dallas, faced with the persistent question of who will be the No. 1 goalie for the Stars, if they even have one.
 
General manager Jim Nill doesn't see a problem after signing Niemi, a former Stanley Cup winner, to a three-year contract two days before he was set to become a free agent -- and two days after acquiring his rights from San Jose for a seventh-round pick during the NHL draft.
 
"I've talked to both guys," Nill said Monday after the deal was announced. "They're both excited. The endgame is that we want to win. They're excited that this gives us a better chance to win, and that's what we're all here for."
 
Niemi, whose deal will pay him $4.5 million per season, and Lehtonen are among the top three goalies in starts over the past five years. But the Stars wanted help for Lehtonen after one of his worst seasons statistically, with Dallas missing the playoffs for the sixth time in seven years in large part because of an inconsistent defense.
 
Nill said there were too many times Dallas had to play Lehtonen when he needed rest, and the front office settled on Niemi as the best option to fix that problem.
 
"It's going to be great to work with Kari," said Niemi, who won all 16 postseason games for Chicago in 2010 when the Blackhawks won the Stanley Cup and went to the Sharks as a free agent after that season. "I think in the NHL you have a lot of games, so I think there's room for two guys playing a lot."
 
San Jose missed the playoffs for the first time since 2003, and is a year removed from a playoff collapse against Los Angeles that had lingering effects for the franchise. Niemi said the Sharks never made a substantive offer before trading his rights to the Stars.
 
Both players are 31, with Niemi a few months older. But Lehtonen has 510 career games to 338 for Niemi, whose goals-against average is substantially better (2.39 to 2.70 for Lehtonen). Both have 32 career shutouts, with similar save percentages.
 
"One guy's going to start the first game and we're just going to play it by ear from there," Nill said. "They're both going to play lots of games. It's going to work itself out. There's a lot of injuries. Things happen. We just know that we have now taken care of that one position that we were worried about."

Lehtonen has three years left on a contract that pays him almost $6 million annually, meaning the Stars have more than $10 million tied up in goaltending. But Nill said the Stars entered the offseason with close to $20 million in salary cap space, and wanted to spend money to get Lehtonen some help.
 
"He hasn't really had that support," Nill said. "We've tried to get him the support. But we haven't done a great job at it. We went through different scenarios and he was very open to the idea. I know he's very comfortable going in with it."
 
Pittsburgh's Marc-Andre Fleury is the only goalie with more wins than Niemi's 163 the past five seasons with the Sharks. He has a 190-100-40 regular-season record. Lehtonen has a 248-184-55 mark, but just two career playoff victories compared to 35 for Niemi.