Stanton hits 2 more home runs, Marlins beat Rangers 4-0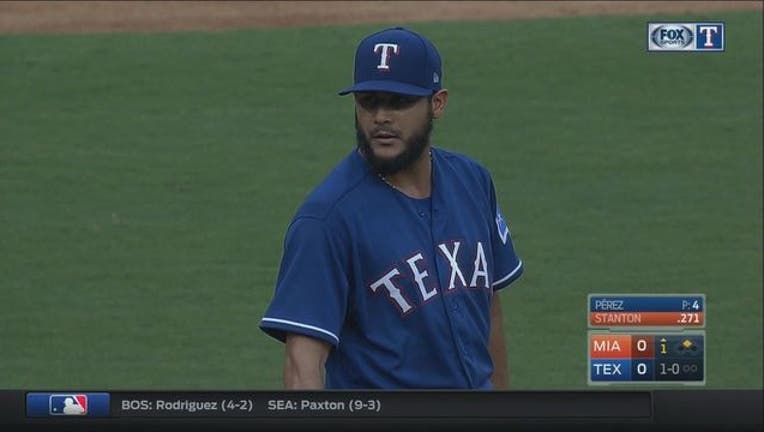 ARLINGTON, Texas (AP) - By the end of his career, Miami Marlins outfielder Giancarlo Stanton would like to homer in all 30 major league parks.
He added another to his list in a big way Monday night, hitting a pair of home runs against the Texas Rangers in a 4-0 win.
"I remember watching a game when I was little and Barry (Bonds) finally got his last one, which took him longer than for how many homers he had, you would think," Stanton said. "I thought about it last night, actually. I knew I needed to get one."
Stanton has homered in 26 parks, some now defunct, in eight seasons and has six active stadiums remaining on his list.
Stanton has 32 homers this season, including six in his last seven games, and is tied with Yankees rookie Aaron Judge for most in the majors. Stanton hit a two-run drive in the first inning and a solo shot in the eighth.
Texas star Adrian Beltre went 4 for 4, giving him 2,993 career hits. He is in line to become the 31st big leaguer to reach 3,000 and hopes to reach the milestone during Texas' nine-game homestand that started Monday.
"I want to get it over with, obviously," Beltre said. "The fans deserve that and I really want to do it in front of them."
Adam Conley (3-3) pitched seven impressive innings during his second start since getting recalled from Triple-A New Orleans on July 18. He allowed seven hits and struck out five as he pitched past the sixth inning for the first time this season.
"We couldn't find a way out of a crafty lefty," Beltre said. "We created some situations but could never find the big hit."
Texas stranded eight runners and was shut out for the third time this season.
"The slider-changeup combo, combined with the delivery was a bit of a challenge for our guys," Rangers manager Jeff Banister said. "Could we have been better? Yes."
Martin Perez (5-8) went seven innings.
Dee Gordon opened the game with a double and Stanton put Miami ahead.
The Marlins made it 3-0 in the sixth when Christian Yelich scored from first on a double by Marcell Ozuna.
Stanton hit his 11th homer in July, connecting in the eighth off reliever Jeremy Jeffress. Stanton also threw out a runner from right field in the third inning, which was a key moment for Conley.
"Huge. It just seems like the game kind of went that way for me," Conley said. "Those guys are always great behind me, so it makes it easy to go out there and throw pitches in the strike zone."
MOMENT OF SILENCE
The Rangers had a moment of silence before the game for longtime fan Sister Frances Evans, who died Friday, 10 days before her 91st birthday. Sister Frances had attended games in Arlington since 1972. She and Sister Maggie Hession were well-known at Rangers games as the "Ranger Nuns."
TRAINER'S ROOM
Marlins: DH Justin Bour left the game and is day-to-day with a right oblique strain after grounding into a double play in the first inning. ... RHP Tom Koehler was optioned to Triple-A, while LHP Hunter Cervenka was recalled. Marlins manager Don Mattingly said it was a move that will allow him to bring an extra lefty out of the bullpen.
Rangers: RHP Tyson Ross was put on the 10-day disabled list with a blister on his right index finger. C Brett Nicholas was recalled from Triple-A after C Robinson Chirinos sprained an ankle Sunday. Chirinos is still on the active roster and could play in case of an emergency situation.
UP NEXT
Marlins: RHP Dan Straily will make his 21st start looking for his eighth win. He has allowed eight hits or more in back-to-back losses.
Rangers: LHP Cole Hamels will make his 11th start and is looking to bounce back after giving up nine hits in his first loss of the season against Baltimore on July 20.
___
More AP baseball: https://apnews.com/tag/MLBbaseball