Spurs, sitting 4 starters in finale, still beat Mavs 96-91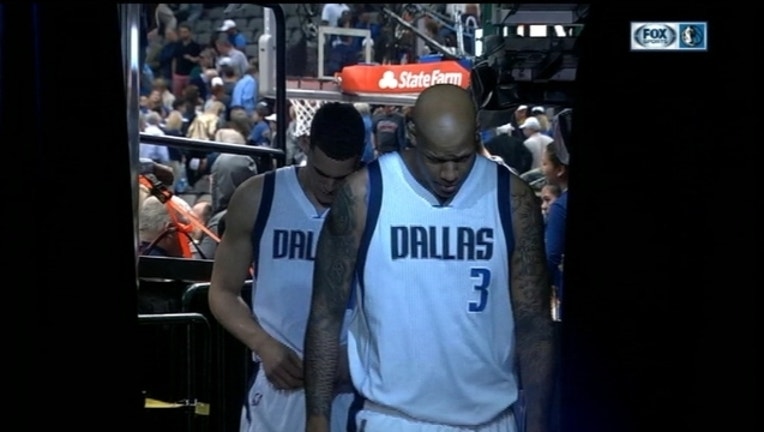 article
DALLAS (AP) — Rookies Boban Marjanovic and Jonathon Simmons set career scoring highs and the Spurs rallied past the Dallas Mavericks 96-91 on Wednesday night despite leaving four starters and two key reserves in San Antonio in a meaningless regular-season finale for them.
The loss left the Mavericks at risk of falling to the No. 7 seed in the Western Conference and having to face the second-seeded Spurs again in the first round of the playoffs after San Antonio's 4-0 sweep of its Texas rival in the regular season.
Marjanovic, a 7-foot-3 Serbian center making his fourth start, had 22 points and matched a career high with 12 rebounds as the Spurs erased an 18-point halftime deficit in the third quarter and finished off the rally in the fourth. Simmons scored 19.
Kyle Anderson, a second-year player, matched his career best with 15 points, including eight in the fourth quarter. He had 10 rebounds for his first career double-double.
Starters LaMarcus Aldridge, Kawhi Leonard, Tim Duncan and Tony Parker, and reserves Manu Ginobili and David West were nowhere to be found on the San Antonio bench.
And the Spurs were down 52-34 at halftime after Raymond Felton finished a 16-point first half with a 3-pointer in the final second. Felton led Dallas with 22 points.
But Matt Bonner opened the second half with consecutive 3-pointers and the Spurs shot 71 percent in the third quarter, when Marjanovic scored eight points.
San Antonio pulled even twice in the second half before going ahead for good at 78-77 midway through the fourth quarter on a 3-pointer by Danny Green, who scored 12 as the only starter in the lineup. He was joined at the opening tip by Bonner, Marjanovic, Kyle Anderson and 40-year-old Andre Miller.
The Mavericks were without guards J.J. Barea (right groin strain) and Harris (sprained left thumb) and lost forward David Lee to a right foot injury in the second quarter.
Dallas is also being careful with point guard Deron Williams in his third game since returning from a left abdominal strain that sidelined him for eight games.
But Williams was on the floor with Dallas trying to get even in the final seconds, frantically chasing Miller to commit a foul and give the Mavericks a chance to tie. After Miller made both free throws, Felton missed a long 3-pointer.
The Mavericks were hurt by a rough shooting night for Dirk Nowitzki, who missed eight of his first nine shots and finished 5 of 17, including 1 of 7 from 3-point range. He scored 19 points.
TIP-INS
Spurs: Marjanovic had his third double-double. ... Marjanovic's previous career high was 19 against Miami on March 23. Simmons had 18 against Milwaukee on Jan. 4. ... Anderson's other 15-point game was Dec. 15, 2014, at Portland.
Mavericks: Nowitzki was 8 of 10 from the line and became the seventh NBA player with 7,000 career free throws. He has 7,006. ... Williams had 13 points and seven assists, and Zaza Pachulia had eight points and 12 rebounds. ... Wes Matthews scored 11, but was just 3 of 11 from 3-point range.
UP NEXT:
Both teams start the playoffs this weekend.