Spieth starts a new year with a new status: He's engaged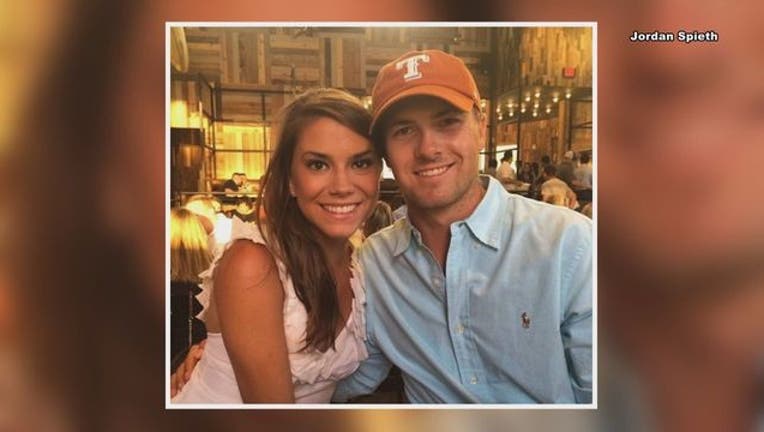 article
KAPALUA, Hawaii (AP) - Jordan Spieth now can remember 2017 for a silver jug and a diamond ring.
Spieth confirmed Tuesday that he proposed to longtime girlfriend Anne Verret, and while he kept the details to a minimum, she said yes.
"It was a fantastic year," Spieth said.
The 24-year-old Texan won the claret jug with a three-shot victory in the British Open at Royal Birkdale to become the third youngest player in history with three legs of the career Grand Slam. He won the Masters and U.S. Open in consecutive majors in 2015.
Were the nerves greater at Birkdale or Chambers Bay, or when he proposed?
"I was probably most nervous at the British," he said. "I was pretty confident this past winter. But yeah, it was a good offseason. ... I forget how I felt the back nine of Chambers. British is still fresh, engagement is still fresh. I'll probably at some point end up forgetting (nerves) at the British, but I won't probably forget the engagement."
Spieth and Verret have been dating since they were in high school in Dallas. He spent three semesters at the University of Texas, while she graduated from Texas Tech after the fall semester in 2014.
Verret first got public exposure as the brunette Spieth kissed when he walked off the 18th green at Augusta National following his wire-to-wire victory at the Masters, though she was never a constant presence at tournaments because of her job. She previously worked in fundraising at The First Tee of Dallas and recently became development director for The Birthday Party Project, which hosts birthday parties at homeless and transitional living facilities across the country.
A photo of Verret covering her mouth with the diamond ring on her finger began making its way across social media on Christmas.
But for the three-time major champion jokingly called "Golden Child" by his peers, not everything goes perfectly. Right when he began to plan his big moment, he got sick.
"I had to have a backup plan," he said. "But I woke up and felt good that day and went through with it."
Spieth's brother, Steven, who was playing basketball overseas, was home for the holidays, and Verret's sister was in town.
"So we had our families there afterward, and it was a great night," he said.