Spieth at least has a chance in the final major, the PGA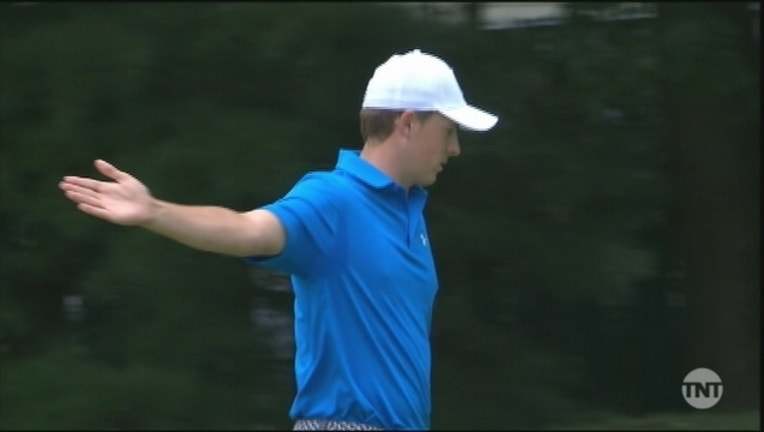 article
SPRINGFIELD, N.J. (AP) — Jordan Spieth warmed up on the range, rode the side streets in a van to get to the 10th tee and was ready to go Friday in the PGA Championship when he had to stand around for nearly an hour because of a rain delay.
No matter. He still came out firing.
And he hit just enough shots, and holed just enough putts, to get back into the mix at a major championship.
Spieth made three birdies in his opening four holes, along with a careless three-putt from just off the 12th green, to work his way up the leaderboard at Baltusrol. He wound up with a 67, the first time he had a sub-70 score in a major since the opening round of the Masters this year.
He still had plenty of work to do. At 3-under 137, he was three shots behind British Open champion Henrik Stenson after the morning wave, and in danger of falling behind Emiliano Grillo, a close friend dating to their junior golf days.
"I'm striking the ball beautifully," Spieth said. "Driver went a little astray, but overall, I feel like I'm in a good position to make a run. I just need a couple good rounds."
That's better than his last two majors.
After squandering a great opportunity at Augusta, where he had five-shot lead on the back nine, Spieth hasn't had a chance in the other two majors. He was eight shots behind at Oakmont after two rounds, and he was 14 shots behind at Royal Troon going into the weekend.
Spieth finished up Thursday with two birdies in his last three holes to scratch out a 70, and he opened strong at Baltusrol on Friday, getting within one shot of the lead with back-to-back birdies on par-5 closing holes.
But it's not where he needs it to be, especially on the greens, and occasionally off the tee. Spieth hit only two fairways on the back nine, and he was particularly wild on the third hole until a risky play — a 3-iron under the trees, with just enough pop to clear a creek. He pitched to 6 feet and saved par.
He wasn't as fortunate on the seventh, where he took double bogey on the opening round from a wild tee shot into the trees. The ball again started out to the right, and Spieth said to himself, "I need a better break than I got yesterday."
And that he did.
His ball went just beyond a pine onto a cart path, but because of so much rain, it was in a puddle. Spieth brought in PGA rules official Brad Gregory to get relief in a ruling that took nearly 10 minutes and so many drops that Spieth kept cleaning the ball with his glove instead of throwing it to his caddie to wipe off with a towel.
He wanted relief from the casual water, not the gravel cart path, because it kept an opening to the hole. Once the spot was determined where Spieth could play the shot he wanted, he had the option to play a different shot, even if his stance was still in casual water.
Gregory told him he was satisfied with the drop, so Spieth was good to go.
There was discussion on television, and after his round, that's about all anyone wanted to ask him about.
"It was as complicated as I've ever really had it. Took about as much time as I've ever taken on a free drop," Spieth said.
Ultimately, it was a good break that he let get away. His shot through a gap in the trees bounced over the green, and he was fooled by the thickness of the grass and left his chip some 20 feet short, missing the par save.
He missed a lot of putts, including a 12-foot birdie attempt on the par-3 ninth that caught spun out of the cup. And that remains his biggest concern.
"I just can't get a putt to go in outside 10 feet," he said. "And from 10 to 20 feet, the amount of opportunities I've had that aren't that difficult. Up to my putting standards I would be five, six, seven strokes better right now. ... I haven't really adjusted to the speed here. Once that comes and my putting gets back, then I'm firing on all cylinders."