Spelling bee champ who threw up the "X" visits Cowboys practice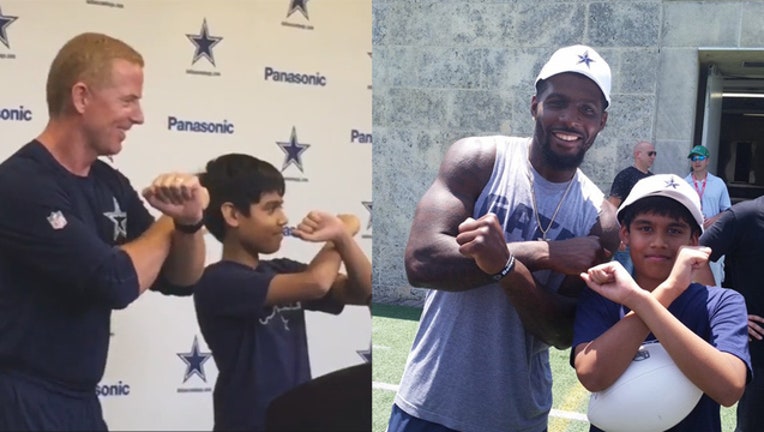 article
The boy who celebrated his national spelling bee win by throwing up the "X" is visiting with the Cowboys Wednesday.
Nihar Janga, the co-champion of May's Scripps National Spelling Bee, is visiting for Cowboys minicamp at Valley Ranch. He watched practice and met the team, including Bryant, who makes an "X" with his arms after scoring a touchdown.
Bryant and Janga posed for a picture, each throwing up the "X."
"This is the champ right here," Bryant said of Janga.
Cowboys coach Jason Garrett said he would even make Janga and Bryant try each other's craft.
"We're going to have you cover Dez," Garrett said, "and have Dez spell a word."
Janga, 11, and his family live in the Austin area. His favorite player is Bryant. After Bryant first got word of Janga's celebration, he tweeted his admiration of it and said he wants to get Janga to a game this season.
Janga also attended Garrett's press conference. Garrett was asked to spell the "gesellschaft," the word Janga spelled to clinch a share of the spelling bee title. Stumped, Garrett brought Janga up for help.
"I can't. I can't even say it," Garrett said "Can you? Why don't you spell it for us? Come up here. What is this word?"
Garrett asked Janga if he could use the word in a sentence. Janga said he couldn't, but he knew what it means.
"How in the world do you know this word, the definition and how to spell it?" Garrett asked Janga.
"My mom helps me a lot to prepare," he responded. "She looks through lists and helps me prepare, and I found this in one of the lists she prepared."
Garrett and Janga also threw up an "X" together at the press conference.