Smith leads Oklahoma State to 84-79 upset of No. 7 Kansas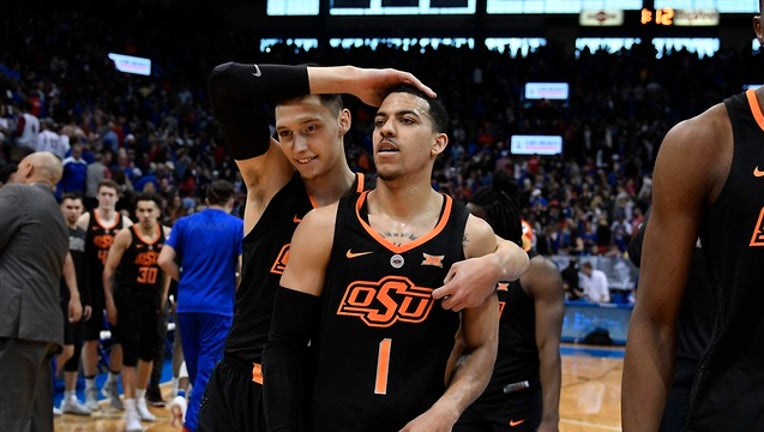 article
LAWRENCE, Kan. (AP) - Kendall Smith knocked down a 3-pointer from the wing in the first half, silencing a buzzing sellout crowd of Kansas fans. The Oklahoma State guard instinctively put his finger to his lips in the universal sign for "shush."
Smith silenced them again when it mattered most.
The senior backup scored 24 points, including the clinching free throws in the final seconds, and the Cowboys held on to beat the Jayhawks 84-79 on Saturday for a rare win in Allen Fieldhouse.
"Just one of those, you know, you play college basketball and when you're done you say, 'I was in Allen Fieldhouse one time and I hit a shot and silenced the crowd,'" Smith said afterward.
Cameron McGriff added 20 points and Jeffrey Carroll had 15 for the Cowboys (14-9, 4-6 Big 12), who built an 18-point first-half lead and dominated the boards in ending their three-game losing streak.
It was the third loss for the Jayhawks (18-5, 7-3) in the Phog this season, their most since the 1998-99 season. It was also their second home loss in league play.
"This is as tough an environment you can play in college basketball," Smith said. "I think we had a full team effort, topo to bottom. Everybody came in and gave us something."
Devonte Graham gave the Jayhawks a chance when his two foul shots drew them within 82-79 with 14.2 seconds to go. But after they squandered several seconds trying to foul Smith, the guard capped his big performance by knocking down two free throws to put the game away.
"We've been in a lot of these games, really competitive," said Cowboys coach Mike Boynton, whose team won without injured guard Tavarius Shine. "Really proud of my kids for showing the kind of fight and competitive spirit. Got a locker room full of guys that always respond."
Udoka Azubuike had 20 points and Graham and Svi Mykhailiuk scored 17 apiece for Kansas, which was celebrating 120 years of basketball by welcoming back dozens of former players and coaches.
They didn't have much to cheer about on a sunny Saturday morning.
A nip-and-tuck start gave way to complete first-half dominance by the Cowboys, who at one point had more second-chance points (18) than the Jayhawks had total (16).
One of the nation's most prolific 3-point shooting teams, the Jayhawks were relegated to dumping the ball to Azubuike in the post. And the big fella was unable to keep up with Oklahoma State's own 3-point barrage, which at one point stretched the lead to 18 points late in the half.
Kansas coach Bill Self, who typically stalks the sideline, instead sat glumly as his team followed a 3-for-15 start from the field with three consecutive turnovers.
The Jayhawks' 46-33 halftime deficit matched their biggest of the season.
"Right from the jump," Self said, "they were so much quicker and more competitive."
Kansas dug into its disadvantage early in the second half, quickly trimming the lead to seven points on Newman's flurry of baskets. But for the next 10 minutes, the Cowboys matched the Jayhawks shot-for-shot, answering each attempt at starting a run with a crucial rebound or big basket.
The Cowboys still clung to a 78-71 lead after Newman missed a foul shot with about two minutes left, and Smith scored twice as the Jayhawks were trying to foul him to keep a comfortable lead.
Kansas finally got the game to one possession, only for Smith to hit the clinching foul shots.
"It's very frustrating," said Graham, who has been hobbled the last week by a knee injury. "We're way better on the road than we have been at home. We have to find a way to come out and crush teams the way they came out and stepped on our throats today."
120 YEARS OF HOOPS
The Jayhawks recognized the birth of its basketball program during a halftime ceremony, highlighted by the 30th anniversary of their 1988 title team. There was also a reunion banquet Saturday night with more than 400 players, staff and coaches from every era expected to attend.
BIG PICTURE
Oklahoma State had a 41-28 advantage on the glass, which produced a 26-7 advantage in second-chance points. That kind of hustle infuriated Self and proved too much for Kansas to overcome.
Kansas' shooting went wayward as the Cowboys mixed zone and man-to-man defenses. The Jayhawks were 8 of 22 from beyond the 3-point arc, and several of those makes were in desperation time.
UP NEXT
Oklahoma State returns home against Baylor on Tuesday night.
Kansas continues its homestand Tuesday night against TCU.
___
More AP college basketball: collegebasketball.ap.org and twitter.com/AP_Top25