Sister Jean stays faithful when Loyola's Final Four run ends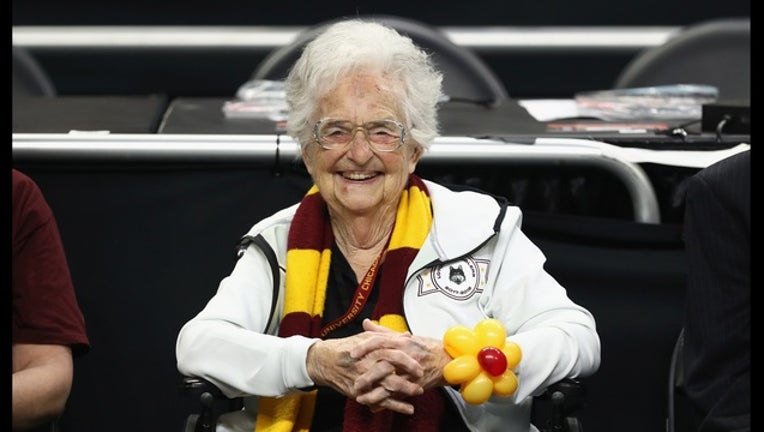 article
SAN ANTONIO (AP) - Sister Jean Dolores-Schmidt was waiting at the hallway door when Loyola-Chicago's frustrated, teary-eyed players left the Final Four court.
The 98-year-old nun leaned up from her wheelchair to greet each Rambler with a hug and a few consoling words - a dozen gentle versions of solace, according to the players who love her.
"She said she was proud of us," big man Cameron Krutwig said in a wavering voice. "'Way to leave your heart out there for Loyola. Way to make a name for yourself.'"
Loyola-Chicago's improbable run through the NCAA Tournament ended Saturday night with a 69-57 loss to mighty Michigan . Everybody's favorite underdog team and their No. 1 fan had a 10-point lead in the second half, but couldn't overcome a slew of late turnovers and missed shots.
The magic that made the Ramblers into national darlings was hard to remember at the Alamodome.
Sister Jean still told her players they'll never be forgotten.
"Sister Jean just said it was a great season," Aundre Jackson said. "She was so happy to be on this run with us, and we should keep our heads high and be happy with what we accomplished."
The Ramblers readily acknowledge Sister Jean has become a bigger celebrity than any player on her beloved team, and she was greeted by cheers, waves and dozens of outstretched phones when she rolled out to her seat before the semifinal. She watched the game from a platform just off the court opposite Loyola's bench, sitting with a few fellow Ramblers fans.
Several security people stood around the small section of seats, keeping fans and gawkers at a respectful distance. Fans throughout the arena wore T-shirts reading "Win One for the Nun!" and a sign in the crowd encouraged Michigan to give obedience to "Jean's Plan."
"She's become a huge celebrity, and she's a great part of this team," Krutwig said. "A lot of people know our name now in college hoops, and her impact has been as great as ours."
Sister Jean's pregame message in the locker room was the same as always, the players said: Play hard, play together and play smart, and hopefully you'll come out on top. If it doesn't happen, she tells them regularly, it wasn't meant to be.
"It was great to see her there after the game," guard Clayton Custer said. "She's been with us all the way. She's an incredible person."
After a thoroughly charming news conference Friday, Sister Jean couldn't wait to watch the most unlikely run by her Ramblers since 1963, when they won the national title.
Sister Jean watched that big game on tape delay back home on an 11-inch, black-and-white television. For this improbable trip to the Final Four, there was no question she would be right on the scene.
Sister Jean watched attentively in the second half while Loyola's healthy lead dwindled and vanished in a flurry of turnovers. During a timeout with 1:39 to play and the Ramblers down 10, Sister Jean's helpers wheeled her away from her seat and took her backstage to the locker room door, eager to avoid the crush of traffic after the final whistle and before the second game between Kansas and Villanova.
After greeting her players, Sister Jean was wheeled down a long Alamodome corridor and into a waiting white van. The Ramblers' incredible season may be over without a national title, but Sister Jean helped to guarantee they'll be remembered.
"You never want to go out like that, but we're proud," Krutwig said. "It hurts right now, and even though it might hurt for everyone for a while, once we get over it and realize what we did, I think the memories are going to outweigh the pain for sure."
___
More AP college basketball: https://collegebasketball.ap.org ; https://twitter.com/AP_Top25 and https://www.podcastone.com/ap-sports-special-events