Silver medal and an engagement ring for Chinese diver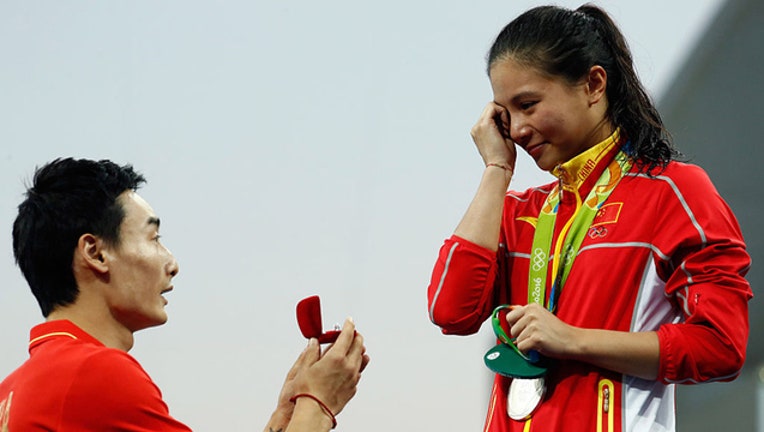 article
RIO DE JANEIRO (AP) — Love is in the air at the Olympic diving pool.
He Zi of China settled for silver in women's 3-meter springboard on Sunday before accepting an even bigger prize: an engagement ring.
He's boyfriend and fellow diver Qin Kai surprised her with a marriage proposal as she stepped off the medal podium. A serious-looking Qin got down on bended knee and appeared to speak at length to He before opening a small box.
Qin took out the ring and after she solemnly nodded yes, Qin slipped it on her finger. He clapped her right hand over her eyes and Qin presented her a red rose encased in glass.
The crowd cheered its approval. The other divers stopped what they were doing and watched in amazement.
"Oh, I'm so happy for him," said American Abby Johnston, who finished 12th and last in the competition.
Qin thrust both arms triumphantly as they left the podium.
The couple's teammate, Shi Tingmao, won her second gold in Rio, adding the individual 3-meter title to her earlier victory in synchronized springboard. Shi totaled 406.05 points.
Shi and He were tied after two rounds before Shi took the lead for good on her third dive.
He finished second at 387.90. Tania Cagnotto of Italy earned bronze at 372.80.
He carried the red rose container to the medalists' news conference along with her silver medal. She said the couple has been dating for six years and Qin's proposal was a surprise.
"He said a lot of things," He said, describing Qin's speech. "He made a lot of promises, but the most important thing is this is the guy I can trust for the rest of my life."
Shi was excited for 25-year-old He and 30-year-old Qin, who earned bronze in men's 3-meter synchro in Rio.
"Both of them have gone through a lot," she said. "It's a great moment. Qin said it best, 'This is the way it's supposed to be.'"
Being Italian, Cagnotto knows a thing or two about amore.
"I was really happy for those two," she said. "It's a really great moment to ask her to marry him."