Shore has 3 points, Bishop 34 saves to lift Stars over Habs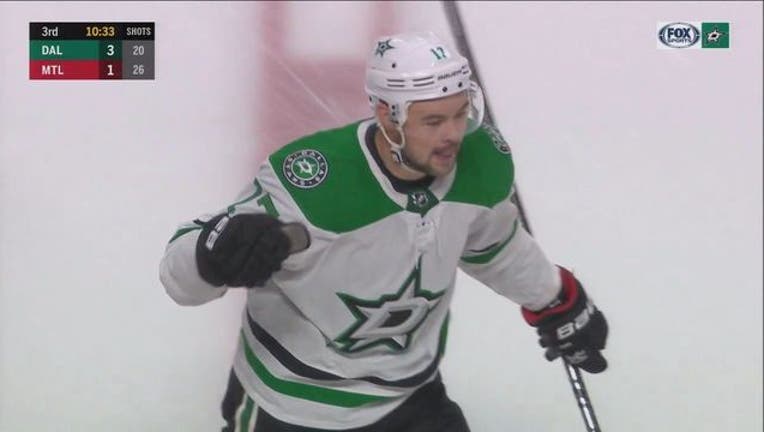 MONTREAL (AP) - Devin Shore had a goal and two assists, Ben Bishop stopped 34 shots and the Dallas Stars beat the Montreal Canadiens 4-1 on Tuesday night.
Esa Lindell and Miro Heiskanen also scored, and Alexander Radulov added an empty-netter for Dallas, which won on the road for the first time this season. This was the second stop on the Stars' six-game road trip.
Brendan Gallagher scored for the Canadiens, and Carey Price stopped 18 shots.
With the Stars leading 2-1 in the third, Shore added a short-handed goal at 9:27 - Dallas' first short-handed score of the season. A bad giveaway by Montreal's Artturi Lehkonen behind his own goal gave the puck right to Shore, who chipped a backhander past Price.
The 24-year-old Shore had five points in 10 games this season before Tuesday.
Bishop improved to 12-4-3 against the Canadiens, though he had help from his posts in the first period. Mike Reilly fired a slap shot off the iron just two minutes into the game, fooling even the goal-light operator, before Karl Alzner hit the post later in the period.
In the second, Lehkonen was awarded a penalty shot after John Klingberg slashed him on a breakaway. Lehkonen tried going five-hole but Bishop made the easy save.
Lindell made Montreal pay for its missed opportunities when he scored on Dallas' fourth shot of the game at 1:49 of the second. With Phillip Danault in the box for slashing, Shore faked a shot then fed Lindell on an odd-man rush to give the visitors a 1-0 lead.
The Canadiens got caught on a line change and Dallas took advantage at 7:24 of the second. Heiskanen, the third overall draft pick in 2017, found himself unmarked near the blue line before beating Price.
Gallagher scored his team-leading seventh three minutes into the third. Bishop stopped Tomas Tatar's initial shot from the point but Gallagher was on the doorstep to knock in the rebound.
Dallas coach Jim Montgomery challenged the goal for goaltender interference, but the referees determined Klingberg had knocked Gallagher into Bishop.
NOTES: Jason Spezza played in his 1,000th career NHL game. ... Radulov, who played with the Canadiens two seasons ago, was back in the Stars lineup after missing four games with an undisclosed injury. He scored an empty-net goal with 2:37 left in the game.
UP NEXT
Stars: Play at Toronto on Thursday night.
Canadiens: Host Washington on Thursday night.
___
More AP NHL: https://apnews.com/NHL and https://twitter.com/AP_Sports