Sharp-shooting Lillard gets 31 points, Blazers beat Mavs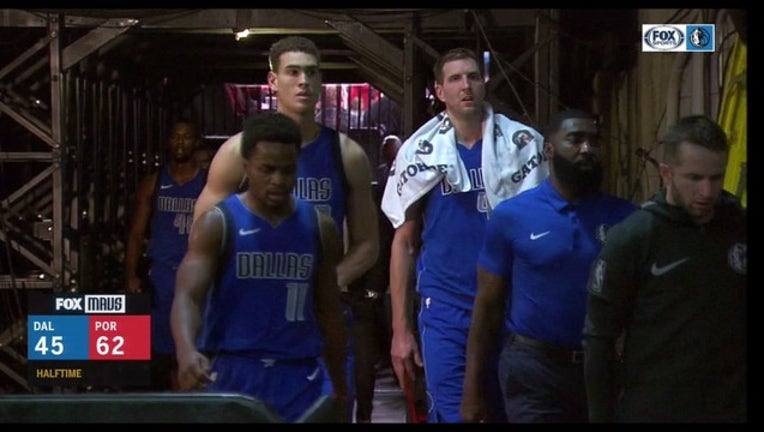 article
PORTLAND, Ore. (AP) - Damian Lillard hit his first nine shots - including seven 3-pointers - en route to 31 points, and the Portland Trail Blazers beat the Dallas Mavericks 117-108 on Saturday night.
Lillard shot 10 of 15 from the floor and handed out nine assists. CJ McCollum added 26 points for Portland, which won its third straight game overall and season-best sixth straight at home.
Portland tied a season high by making 18 3-pointers. Six Blazers hit at least two shots from behind the arc.
Evan Turner scored 17 points and Al-Farouq Aminu had 13 for Portland.
Wesley Matthews led Dallas with 23 points. Dirk Nowitzki and Dennis Smith Jr. scored 21 points each, with Nowitzki reaching a season high.
Portland led by 18 in the second half but had trouble putting away the pesky Mavericks. Dallas whittled away at Portland's advantage during the fourth quarter, getting as close as five points with 36 seconds remaining. A dunk by the Blazers' Ed Davis with 17 seconds left put the Mavericks away.
The game got chippy down the stretch, with three technical fouls handed out during the final six minutes.
The Blazers took control of Dallas early on, and one difference was the play of the team's leader scorers. Lillard went 5 of 5, including four 3-pointers, during the first quarter, while Harrison Barnes missed his first five shots.
Portland led 33-20 after the first quarter, and its dominance was particularly evidence on the final two baskets. Shabazz Napier stripped J.J. Barea at midcourt and finished with a rare dunk. Seconds later, McCollum had a layup after blowing by Yogi Ferrell so quickly the Dallas guard fell to the ground.
Portland's defense was sharp in the first half against the Mavericks' best offensive threats. The first points for Barnes and Smith, Dallas' top two scorers, came at the four-minute mark of the second quarter.
Portland led 62-45 at halftime, after the Blazers shot 57 percent (24 of 42) during the first half.
TIP-INS
Mavericks: Barea returned to the lineup after missing Tuesday's game at Denver. He scored 12 points. ... This is the second time this season Dallas has had a four-day break in between games. The Mavericks are 0-2 in that situation. ... Devin Harris suffered a head injury during the first half and didn't return.
Trail Blazers: Matthews left the Blazers for Dallas following the 2014-15 season, but he's still popular in Portland, as fans warmly cheered him during pregame introductions. ... Last season, Lillard averaged 28.3 points in three games against the Mavericks. ... Though Portland has won six consecutive home games, it is only 6-6 in its last 12 at Moda Center. The Blazers lost six straight prior to this streak.
UP NEXT
Mavericks: Monday night at home against Washington
Trail Blazers: Monday night at Denver.
___
More AP basketball: https://apnews.com/tag/NBAbasketball