Seguin snaps scoreless tie in 3rd, Stars beat Kings 2-0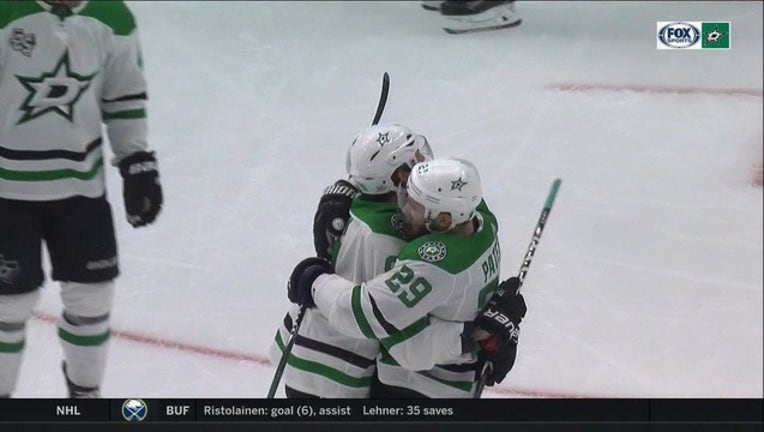 article
LOS ANGELES (AP) - Dallas coach Ken Hitchcock could see the improved play in his Stars, but positive results had been elusive.
The Stars had lost consecutive games, been shut out in two of their last four and late Thursday night against the Kings were stuck in a scoreless game.
But then Tyler Seguin finally broke through with a goal with 8:27 remaining and Dallas beat Los Angeles 2-0 in a matchup of teams fighting for a Western Conference playoff spot.
Hitchcock's belief had been rewarded.
"It's tough to get the players to believe if you don't win," Hitchcock said. "After a while, they start wondering. That's why tonight's win is really important."
Seguin tipped in Greg Pateryn's slap shot for his 30th goal, reaching the mark for the fourth time in five years.
Backup goalie Kari Lehtonen made 18 saves for his first shutout of the season in his 21st game. Alexander Radulov added an empty-net goal with a minute to play.
The Kings had their three-game winning streak snapped. Despite facing a Dallas team that lost 2-0 the previous night in Anaheim, the Kings were outshot 28-18.
"We've got to score some goals," Jake Muzzin said. "We created some chances. I think we got a little cute in the second. Our puck management wasn't that great."
Los Angeles dominated the first period, holding the Stars to two shots on goal.
But the second period brought a quick reversal, with Dallas putting constant pressure on goalie Jonathan Quick as Los Angeles' offense all but disappeared.
Still, the game was scoreless as Seguin prepared to take a faceoff in the Kings end a little more than midway through the third.
"Right before the faceoff, Seguin came back to me and said, 'Look for my stick if I get it to you,'" Pateryn said. "He got it back to me and I basically looked him right in the eyes and shot it right for his stick."
Pateryn's drive whistled by, nicking Seguin and going high into the net.
The Kings were unable to get rolling, and Lehtonen thwarted their late attempts to tie it.
"In the second period, we took the game over," Lehtonen said. "We were the team that seemed to have more legs and more will at the end there."
Quick made several outstanding stops and finished with 26 saves. But with Dallas controlling the puck after the first period, Los Angeles could never find any offensive rhythm.
"Not only did we spend a little too much time in our zone, we couldn't generate enough offensively," coach John Stevens said.
The day began with five teams all within three points of each other in the Western Conference playoff race, including the Stars and Kings.
"We played so well the last two nights, we needed to get rewarded," Hitchcock said. "As well as we played tonight, we probably played better (Wednesday) night.
"At this time of the year, with so many teams involved in the West in the playoff race, every shift matters, every period matters, every game matters."
NOTES: Tobias Rieder, making his first appearance with the Kings after arriving from Arizona in a trade Wednesday, played on Los Angeles' third line. . After three power plays in the first period, there were none in the final two periods. . Lehtonen said it felt like a playoff game: "It's going to be like this the next 20 games. It's exciting for the players and the fans."
UP NEXT
Stars: Return home to play Winnipeg on Saturday.
Kings: Remain home Saturday to face Edmonton.
___
More AP NHL coverage: https://apnews.com/tag/NHLhockey