Saban, complacency-proof Alabama faces Georgia for title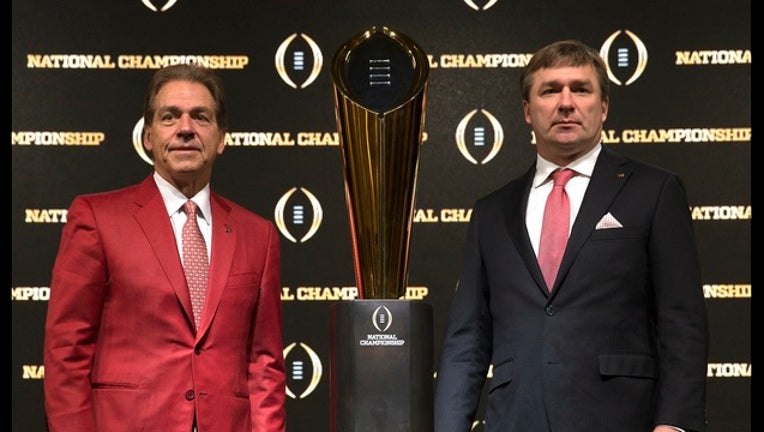 article
ATLANTA (AP) - Nick Saban's greatest rival, his most persistent foe, is human nature. So far, Saban is winning that matchup.
Alabama's coach has his Crimson Tide back in the College Football Playoff national championship game for the third straight season. Alabama has won four national titles since Saban took over in 2007, and played for another. Only once since 2008 has Alabama lost more than a single regular-season game.
There has never been anything quite like this Crimson Tide dynasty in college football.
Alabama has been the sport's equivalent to the NFL's Patriots during Saban's time, fitting since he once worked for New England coach Bill Belichick, the winner of a record five Super Bowls.
Add a BCS championship Saban won while the head coach at LSU, and his five poll-era national championships leave him one short of a record held by the man who coached Alabama's first dynasty, Paul "Bear" Bryant. Saban can match the Bear on Monday night when No. 4 Alabama faces No. 3 Georgia in an all-Southeastern Conference national championship game that President Trump is expected to attend.
Relentlessly driven and motivated by competition for competition's sake, Saban has engineered a complacency-proof program in Tuscaloosa, Alabama. Whether it is lunchtime basketball with the assistant coaches or what has become Alabama's annual appearance in the national title game, the 66-year-old Saban only knows one approach.
"Well, I think that I'm always looking for the next challenge," he said Sunday. "I don't know if it's the way I was raised or whatever, that you're kind of only as good as your last play, as your last game. I think everyone has heard me talk a lot about the fact that success is not a continuum, it's momentary, and it's human nature to get satisfied and get a little complacent when you have success.
"But in a competitive business like we're in where there's always a next challenge, there's always a next game, there's always a better team to play, if you have that mindset, you're not going to be able to play with any consistency. And if you can't play with consistency in performance, you're not going to really have a lot of success long-term."
Saban's latest challenge comes from a former protege.
Georgia coach Kirby Smart spent nine seasons with Saban at Alabama, the last eight as defensive coordinator, before taking over as head coach at his alma mater in 2016. The two shared the stage Sunday with the tall, gold championship trophy for a final news conference before Monday night's game. Smart was part of those basketball games for years, usually on Saban's team because, as Saban said, they both hated to lose.
Smart, 42, has taken Saban's "process" to Athens, Georgia, a title hungry town that has not celebrated a Bulldogs' championship since Herschel Walker was a freshman in 1980. Asked what the most important lesson he learned from Saban, Smart had a well-prepared response.
"Well, this is not the first time I've answered this question this week, so I'll be happy to answer it again," Smart said. "But probably the single greatest thing is just the level of commitment to the organization, holding everybody in the organization to a standard that he kind of embraced himself. He never asked anybody in the organization to work any harder than he did. He held every person on the staff - and I'm not talking about just the coaching staff, I'm talking about the entire organization, to be at their best."
With Smart only in year two at Georgia, it is too soon to say this game represents a potential paradigm shift in the SEC. But a few weeks removed from the Bulldogs signing the top recruiting class in the country, there are signs that this is just the beginning of a high-stakes rivalry between mentor and mentee. In 11 games, Saban has never lost to a head coach who once worked for him.
The only downside - if there is one - to living under the Saban Standard is anything less than the best can seem like the worst. A second straight championship game loss after last season's thriller against Clemson would mean "just" one national title for Saban and Alabama in the last five seasons.
"That's a career for most coaches, but for him it's an abject failure," longtime Alabama and national radio show host Paul Finebaum said.
___
Things to know about the 68th and most important game ever played between Alabama and Georgia.
FRESHMAN FROMM
Georgia's Jake Fromm would become just the second true freshman quarterback to lead a team to a national championship, joining Jamelle Holieway of Oklahoma in 1985.
ALL-SEC
This is the second time in the BCS/CFP era that the national championship game will match two SEC teams. The last was LSU-Alabama in the 2011 BCS title game, which was a rematch of a regular-season meeting that LSU won 9-6. The Bulldogs and Tide at least have not played this season.
This is the third time in the last calendar year a national championship will be decided by SEC teams. The women's basketball final was Mississippi State vs South Carolina and the baseball championship series was Florida taking on LSU.
"I think the fans of the two universities and particularly the fans of our conference need to understand how special this is. This is not easy to achieve," SEC Commissioner Greg Sankey said. "I would argue even more challenging and difficult than when it happened in 2011 because there was another game involved against in this case the No. 1 and No. 2 ranked teams in the country.
___
Follow Ralph D. Russo at www.Twitter.com/ralphDrussoAP
___
More AP college football: http://collegefootball.ap.org and http://www.twitter.com/AP_Top25