Russell has 4 TD passes, No. 16 Baylor beats Oklahoma State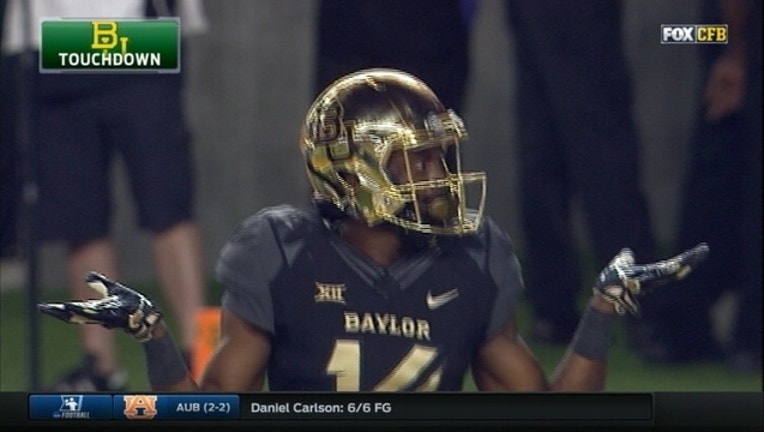 article
WACO, Texas (AP) — Seth Russell threw four touchdown passes, including an 89-yarder to Chris Platt for the go-ahead score in the third quarter, and No. 16 Baylor held on to beat Oklahoma State 35-24 on Saturday night in the weather-delayed Big 12 opener for both teams.
Ishmael Zamora had career highs of 175 yards receiving and two touchdowns on eight catches in his season debut for the Bears after a three-game suspension over a video of him whipping his dog that surfaced during the summer. Platt also had two TDs.
"He never takes any days off," Russell said about Zamora. "When he was suspended, he never griped one day. He came to work, and it showed tonight."
Baylor earned its fourth consecutive 4-0 start in its first big test after a light nonconference schedule.
The game was stopped by lightning for about 1 1/2 hours after the Bears scored on the opening series.
The Cowboys (2-2) lost three fumbles, including the second by Justice Hill after he picked up a first down at the Baylor 2 with Oklahoma State trailing 28-24 with 9 minutes remaining. Hill, who had 122 yards rushing, was originally ruled down, but the call was overturned on review.
"It seems like when our defense gets their backs against the wall, we play better," Baylor coach Jim Grobe said after the Bears persevered through 101 snaps against the Oklahoma State offense. "I'd just like to go ahead and put them on the 20 and say, 'Let's play football.' It was just amazing tonight to watch those guys play so hard."
A week after throwing for a national season-high 540 yards to beat Pittsburgh in another weather-delayed game for the Cowboys, Mason Rudolph was 27 of 45 for 279 yards with an interception.
It was the first loss in a true road game for Rudolph since his debut as a freshman at Baylor two years ago, a span that included six straight road wins. Baylor is the only Big 12 team the junior hasn't beaten.
With leading Baylor receiver KD Cannon out for most of the game with a groin injury, Zamora's first TD came when Russell's high pass went through Lynx Hawthorne's hands and into the sophomore's arms. Because the defense converged on Hawthorne, Zamora raced untouched down the sideline for the final 30 yards on the 38-yard play.
Pratt, who had 114 yards receiving, was 5 yards behind Ashton Lampkin on the sideline after a stutter-and-go route when he caught Russell's pass in stride and easily outran everyone to the end zone. Russell was 18 of 28 for 387 yards with an interception.
THE TAKEAWAY
Oklahoma State: Who knows what would have happened if the Cowboys hadn't fumbled inside the Baylor 5 on what looked to be a go-ahead drive in the fourth quarter. Add to the what-if list that started with a disputed loss when officials mistakenly allowed an untimed down for Central Michigan's winning score.
Baylor: The Bears have been something of an afterthought in the Big 12 race since a tumultuous offseason marked by allegations of mishandled sexual assault cases that led to the dismissal of two-time league champion coach Art Briles along with school President Ken Starr and athletic director Ian McCaw. But the Bears are the only 4-0 team, and the only other unbeaten team is West Virginia (3-0).
UP NEXT
Oklahoma State: The Cowboys host No. 21 Texas next week. The Longhorns were off this week.
Baylor: The Bears have their two easiest Big 12 games on paper at Iowa State next week and then Oct. 15 at home against Kansas. There are two byes in the mix as well before a visit to the Longhorns on Oct. 29.
___
Online: The AP's college football page, http://collegefootball.ap.org