Romo, Prescott lead Dallas win; Dolphins move with Tannehill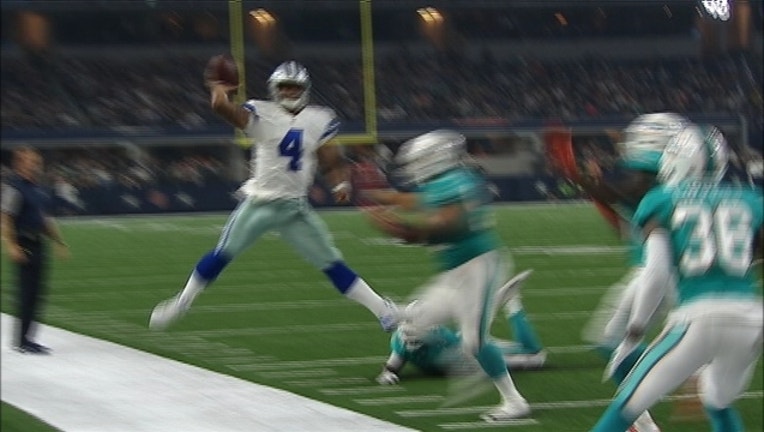 article
ARLINGTON, Texas (AP) — Tony Romo led a touchdown drive in his preseason debut once the Dallas offense stopped committing holding penalties, rookie backup quarterback Dak Prescott had a strong encore and Ryan Tannehill finally got the Miami Dolphins moving.
Alfred Morris finished the second of Romo's two possessions with a 15-yard scoring run before Prescott ran for two touchdowns and threw for two scores, including another one to Dez Bryant, in the Cowboys' 41-14 exhibition victory Friday night.
Tannehill had two scoring tosses to Kenny Stills.
Dallas (1-1) had three holding penalties in the first five plays of an opening drive that stalled. Then Romo completed all three passes, including a pair to trusty tight end Jason Witten, before the scoring run from Morris, who had 13 carries for 85 yards.
Romo was 4 of 5 for 49 yards, and the Dallas offense had 300 yards at halftime.
"It was a good start. We needed that," Witten said. "It's been a long offseason. We have Tony leading the way. We had a lot of energy."
Tannehill, who played late into the first half with the Dolphins (1-1) trying to move past a rough opener for the first-team offense last week, had scoring passes of 13 and 3 yards to Stills. Tannehill led another drive inside the 5 that ended on downs and finished 12 of 20 for 162 yards.
"I liked the mentality that he had going into that first half," first-year coach Adam Gase said. "I liked the fact that the ones wanted to stay in and do another series. That's what I wanted to see."
Prescott has two touchdowns passes in each of the two preseason games and is 22 of 27 for 338 yards without an interception after completing his first eight passes following a 10-of-12 showing in his NFL debut against the Los Angeles Rams last week.
The fourth-round pick out of Mississippi State had a 20-yard scoring run and a 1-yard sneak that was held up on review. Prescott tossed a short touchdown pass to Brice Butler the play after a 58-yarder to the speedy wideout.
Prescott had an overthrow for what would have been his first interception in the second quarter, but it was wiped out by a roughing-the-passer penalty against Andre Branch.
"It's been a great start for him, and he's excited about it," Romo said. "You just keep building on it every day, but you can't ask for a better start."
TOO MANY MISTAKES
The Cowboys had 10 penalties for 100 yards in the first half and 12 for 113 yards for the game. The Dolphins twice had options of two penalties that were either personal fouls or unsportsmanlike conduct. Miami had 10 penalties for 79 yards.
D-LINE DEBUTS
Defensive tackle Ndamukong Suh and end Mario Williams made their preseason debuts for the Dolphins, but didn't have much impact for a defense that ended up allowing 433 yards. End Cameron Wake was held out again.
ROOKIE WATCH
Dolphins: LG Laremy Tunsil made his first start as the offensive line again looked shaky. Tannehill was sacked on third down on the opening possession, and the Dolphins averaged 3.2 yards per carry in the first half.
Cowboys: RB Ezekiel Elliott, the fourth overall pick, was sidelined again with a mild hamstring injury that has kept him out of most of training camp. He's expected to debut Thursday at Seattle.
POSITION BATTLES
Dolphins: Jay Ajayi and Arian Foster did little to settle things at running back. Ajayi carried six times for 19 yards, and Foster had minus-5 yards on two carries in his first action since tearing an Achilles tendon in Week 4 last season, the last of seven in Houston.
Cowboys: Shaneil Jenkins, who joined the team about a week into training camp, had a sack for a desperately thin group of defensive ends. Jobs are there for the taking.
INJURY UPDATE
Dolphins: Backup quarterback Matt Moore left after his second play when he was hit in the head while sliding by linebacker James Morris, who was penalized. Moore was evaluated for a concussion, but Gase didn't have an update after the game.
Cowboys: Second-year linebacker Mark Nzeocha, who missed last season recovering from a knee injury sustained at Wyoming, left in the first half with a strained Achilles tendon.
QUOTABLE:
"On defense, we just got to do a better job of stopping the run," Gase said. "We just got to get some negative plays, get our hands on some balls and when we do, we have to finish it with a turnover."
___
Online:
AP NFL websites: http://pro32.ap.org and http://twitter.com/AP_NFL
___
Follow Schuyler Dixon on Twitter at https://twitter.com/apschuyler