Romo opens with 77 in PGA Tour debut in Dominican Republic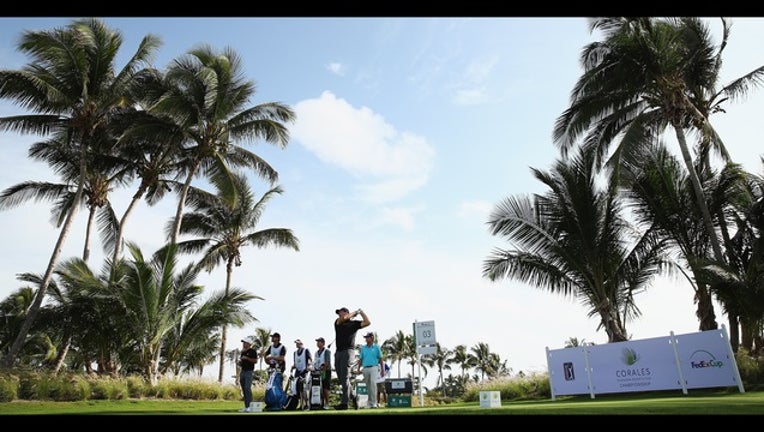 article
PUNTA CANA, Dominican Republic (AP) - Tony Romo settled down after a nervous start, only to come undone on the back nine in his PGA Tour debut.
The former Dallas Cowboys quarterback played a four-hole stretch in a 5 over on the back nine that led to a 5-over 77 in the Corales Puntacana Resort and Club Championship. He was 14 shots behind Brice Garnett, who had a 63 to lead by one shot.
"Over 18 holes and 72, your flaws start to show at some point," Romo said. "I really hit some good shots close and I had a chance to be under par pretty easily. Then two or three shots on the back nine cost me. But that's golf."
Romo, who now works as an NFL analyst for CBS Sports, received a sponsor's exemption to the tournament, which has one of the weaker fields of the year because it is held opposite the World Golf Championships event in Texas. He is playing as an amateur.
Garnett played bogey-free, opening with a 30 on the back nine and building a one-shot lead over Corey Conners of Canada.
Romo played with Denny McCarthy, who was among those at 66, and Dru Love. The son of Davis Love III shot a 73.
"I was nervous," said Romo, who opened with two bogeys before getting back to even par on the front nine. "I think I knew going in that I was going to be trying to rely on the mechanics and the fundamentals of the swing. I hit it fine, but three-putted three times, twice early in the round. That's just nerves, and hopefully you can get that out of the way and get a couple of swings that you aren't used to doing and come back and play better tomorrow."
Friday most likely will be his last day.
Only two players had a higher score than Romo - D.A. Points and Guy Boros at 79. The 53-year-old Boros was playing on the PGA Tour for the first time in three years.
Romo joined a short list of athletes who have tried to compete against those who play for a living.
Mark Rypien, the former Washington Redskins quarterback, played the Kemper Open in 1992. He shot rounds of 80-91 and missed the cut by 27 shots.
Ken Harrelson, an All-Star outfielder for the Boston Red Sox in 1968, qualified for the 1972 British Open at Muirfield and missed the cut by one shot. John Brodie qualified for the U.S. Open while playing for the San Francisco 49ers and later won on the PGA Tour Champions circuit.
Most recently, Golden State Warriors guard Steph Curry played a Web.com Tour event outside San Francisco. He shot 74-74 and missed the cut by 11 shots.
"I had it going for a little bit," Romo said. "I had it close."
Garnett was 10 shots better than his opening round at Punta Cana last year, when it was a Web.com Tour event. He shot 73-67 and missed the cut.
"I think last year I just kind of approached the golf course wrong," Garnett said of the generous fairways on the resort course. "To me, this is a second shot golf course. Everybody's in play off the tee and it comes down to a putting competition."
Jonathan Byrd was in a large group at 66, while former Puerto Rico Open winner George McNeill was among those at 67.