Romo a go for 2nd workout with Rams, making it 4 straight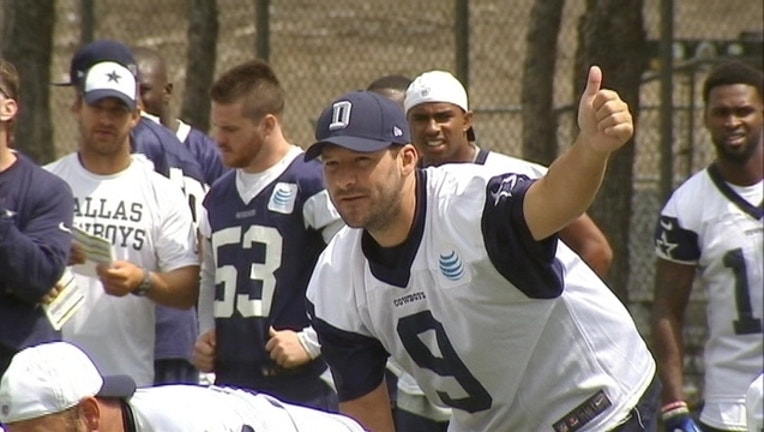 article
OXNARD, Calif. (AP) — Tony Romo had to wait until after Dallas' first joint practice with St. Louis to see if his surgically repaired back would feel good enough to make it through a second straight day with the Rams.
The 35-year-old quarterback gave himself the go-ahead Tuesday, which meant he was practicing for four consecutive days for the first time since 2013, between the two back surgeries he had in just eight months.
"I wish there was an exact thing to tell you, but there's not exact every day, not exact every week," Romo said before wrapping up with the Rams at the Cowboys' training camp facility. "Sometimes you know the night before. I was like, going into yesterday, you weren't 100 percent positive because we hadn't done it in a long time."
Romo had three days off last week while skipping the preseason opener in San Diego, and he figured he could make it through two regular workouts before the visit from the Rams. The Cowboys are off Wednesday, and Romo is in line to make his preseason debut Sunday at San Francisco.
"I think his offseason has been completely different this year than it's been the last couple of years," coach Jason Garrett said. "He was a full participant in our offseason program. So he's in a different place right now than he was the last couple of years."
And practice has been a little different with the Rams in town, another motivation for Romo. He said Tuesday's session would be closer to a scrimmage, and therefore more like a preseason game, than Monday's work.
"I'm going to go ahead because I'm the guy who's got to tell everybody what to do at the line with where we're going, what we're trying to get into," Romo said. "So in some ways I have to be more prepared in these two days than others just otherwise it can just look really silly versus a team who wants to blitz a lot like the Rams do."
For example, Romo was intercepted Monday by Rams defensive end Ethan Westbrooks on an errant screen pass to Joseph Randle after getting quick pressure.
"You'll be prepared during the season but if you're not a little bit right now from my position it can expose you into looking silly," he said.
Romo, coming off the most efficient season of his career in helping the Cowboys win the NFC East at 12-4, said four straight days of work doesn't change the daily maintenance required to take care of his back. And he sounded as if a day off during the week would remain part of his routine when the regular season starts.
"I don't know if you could ever consistently go three or four days and feel you're going to be at your best," Romo said. "Just doesn't allow the torque to consistently happen like that. But if you do it the right amount, you'll always be at your best. You just have to work your butt off to make sure you keep it there."
Romo had his first back procedure to remove a cyst in April 2013, so he missed the offseason program and was far behind in conditioning and throwing when he reported to camp.
The second surgery was December of that year after he sustained a herniated disk in the second-to-last game at Washington and missed a loss to Philadelphia in a playoffs-or-bust finale. As a result, he missed another offseason and generally had a day off for every two practices at camp.
Romo had a separate back injury and missed a loss to Arizona last season, but that small fracture healed without surgery. He was a full participant in the offseason for the first time since 2012.
Even though Romo knew before camp started that this four-day stretch was an opportunity to show his progress, he still had to wait until Monday night to consider whether it would happen.
"You want to have a longer term plan, you want to have a shorter term plan, you want to have a daily plan," Garrett said. "But getting feedback from the player and seeing what he's capable of handling, it always allows you to adjust it, to do more or back off and do less."
And Romo was happy to be doing more for a change.
___
Online:
AP NFL website: www.pro32.ap.org and www.twitter.com/AP_NFL
___
Follow Schuyler Dixon on Twitter at https://twitter.com/apschuyler