Rhule says Baylor committed to correct wrongs of the past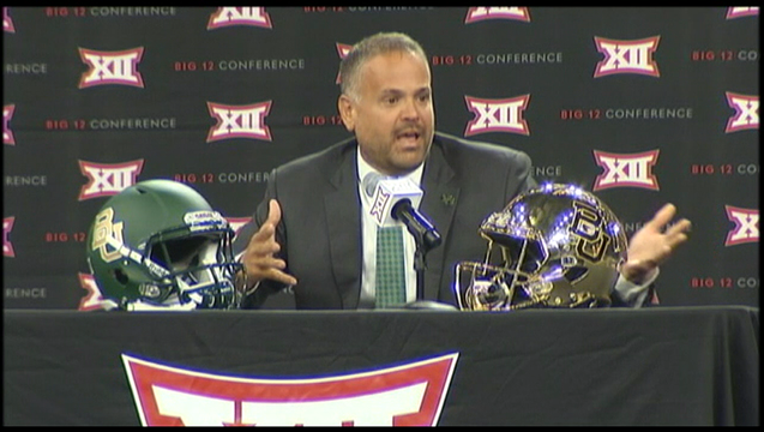 FRISCO, Texas (AP) - Matt Rhule made reference to Baylor's sexual assault scandal even before taking questions during his first appearance at Big 12 football media days.
When Rhule became the Bears coach last December, he knew there would be challenges. For him, that also meant a tremendous opportunity.
"What I've learned in my time at Baylor and Waco is we're not running from the past, but rather we're learning from it," Rhule said Tuesday, eight days before the start of preseason practice. "We're truly committed to getting the wrongs of the past corrected into a bright new future."
Several federal Title IX discrimination lawsuits are still pending against Baylor from more than a dozen women who claim the school and football program ignored, mishandled or tried to cover up reports of sexual or physical abuse for years. One suit was settled last week.
The school is also facing state criminal and federal civil rights investigations, and an NCAA probe into the athletic program as a result of the scandal that led to the departures last year of two-time Big 12 champion coach Art Briles, former athletic director Ian McCaw and former school president Ken Starr.
Rhule, the former Temple coach, said he doesn't know everything that happened before he arrived at Baylor. Asked why he was so forward with confronting the past, Rhule said, "That which we don't acknowledge, we're doomed to repeat."
Rhule said educational initiatives have been instituted at Baylor that relate to character, decision-making, respecting others and Title IX.
"We're trying to build a program, not a team," Rhule said. "We're building a culture, not an attitude."
Senior defensive end K.J. Smith, whose 39 career games started are tied for the most among current players, said the professional mentality that Rhule brought has made a huge difference.
"He came in and saw, you guys are definitely good guys," Smith said. "It's just showing the world that, being that way all the time, on and off the field."
Rhule said Baylor officials, including athletic director Mack Rhoades and Title IX coordinator Kristan Tucker, are in conversations with representatives from two national groups about trying to develop a national curriculum to help train universities how to deal with issues of sexual assault and gender violence.
The coach said those are issues for all of higher education, not just Baylor and college football. He said he was confronted with those daily while at Temple before he got to Waco.
"If we can in any way be part of the solution, then we should try to be part of the solution," Rhule said. "I think that's one of the reasons why we're here. We want to win a ton of football games. We want to graduate people, but we also want to make sure we're part of the conversation about, hey, let's not make these mistakes again."
___
More AP college football: http://collegefootball.ap.org and https://twitter.com/AP_Top25