Records show Big 12 expansion candidates vying for attention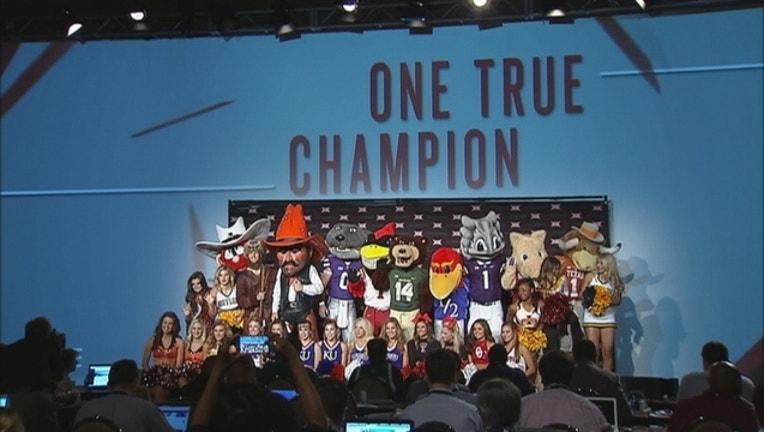 article
The good news for the Big 12 Conference is that there is no shortage of suitors.
Commissioner Bob Bowlsby has been asked to start evaluating expansion candidates and the league office should already have a stack of files from schools eager for a spot in the Power Five league. The announcement on Tuesday did not say the 10-member Big 12 is committed to expansion, but it is obvious where this is headed.
Bowlsby and Oklahoma President David Boren, the chairman of the conference's board of directors, noted plenty of schools have reached out to the Big 12, especially within the last year. Documents obtained by The Associated Press through open records requests show schools such as Connecticut, Cincinnati, UCF, Memphis, Colorado State and Houston have been touting themselves to Big 12 officials for months:
— A letter sent from Central Florida's President John Hitt to Texas President Gregory Fenves highlights a report that projects Orlando's population growth over the next 10 years to be six times that of Cincinnati's and 500 times that of Hartford, Connecticut.
— A UConn student sent a report prepared by the school's alumni to West Virginia athletic director Shane Lyons that points out the Storrs-based school provides access to TV markets (including New York and Boston) with potential to reach 11.7 million homes while the combined markets reached by Cincinnati, UCF, South Florida and Houston is 12.3 million homes.
— Memphis President M. David Rudd touted the school's effort to improve its status as a research institution and the backing of FedEx CEO and Memphis alum Fred Smith in a letter to Texas Tech interim president John Opperman. West Virginia President Gordon Gee, a member of the Big 12's composition committee, received the same information from Memphis and responded with a thank you letter.
"Very, very impressive," Gee wrote back to Rudd.
— Colorado State President Tony Frank mentioned getting the Big 12 back into the Denver market and that the football stadium expansion was "on time and on budget" in a separate email to Gee.
"Indeed, Colorado State is making a statement and moving swiftly into the forefront of universities, not only regionally but nationally," Gee responded in a letter to Frank dated July 21, 2015.
— Houston President Renu Khator's email to Gee had the subject line "TV ratings" and had a color-coded chart attached showing the 20 highest-rated regular season games last season in Houston area. The Cougars had as many in the top 10 as the entire Big 12. The rest were Southeastern Conference games.
It's easy to understand schools have not been shy about courting the Big 12. The league recently distributed $30 million payouts to its members for the most recently concluded school year. Most of that money comes from a 13-year television deal with ESPN and Fox that runs through 2024-25 and is worth $2.6 billion or more than $20 million per school per year.
For perspective, the American Athletic Conference, home to Cincinnati, UConn, Memphis among others, is in the middle of a seven-year deal with ESPN and CBS that is worth $126 million dollars or about $2 million per year per school.
Big 12 membership will bring a windfall, but the full value of membership will take time to reap. The Big 12's TV deals call for its partners to increase payments pro rata for every new school added. Four new schools would equal $80 million to $100 million in new money per year for the conference. Plus, the return of the Big 12 title game in 2017 will bring in another $27 million or so per year, Bowlsby has said.
"There likely will be a two-stage process of some sort that will involve some preliminary work, and then a secondary process as well that gets into a little more of a — perhaps even a fact-finding but also perhaps even a negotiation stage," Bowlsby said.
The Big 12 won't give full shares to new members upon arrival. It's common practice for incoming schools to get partial revenue shares for a few years. TCU and West Virginia just finished their fourth seasons in the Big 12 and for the first time received full shares. That means for several years, the current 10 members get to share the new money. And which schools are willing to accept less money for the longest period of time could help determine whether an institution gets an invite from the Big 12.
Frank, in an email to Gee dated Jan. 28, 2015, acknowledged Colorado State's willingness to be phased in and even provided a suggestion:
"For example, $10M/year for 2 years, then $12.5M for 2 years, then $15M for 2 years, etc...until parity was reached," he wrote.