Rangers trade QB-infielder Russell Wilson to Yankees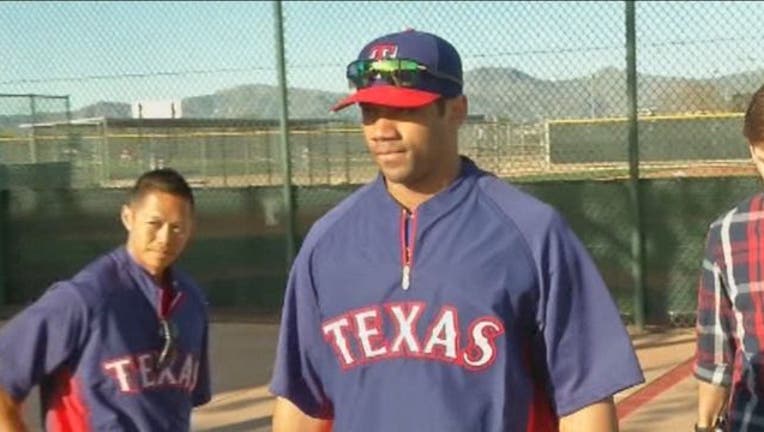 article
ARLINGTON, Texas (AP) - Seattle Seahawks quarterback Russell Wilson has been traded - from the Texas Rangers to the New York Yankees.
The Rangers selected Wilson in the Triple-A portion of the Rule 5 draft during the winter meetings in December 2013, about two months before he led the Seahawks to a win over Denver in the Super Bowl.
On Wednesday, Texas traded Wilson to the Yankees for future considerations.
Wilson spent a day in uniform with the Rangers at spring training in Surprise, Arizona, in 2014 without appearing in a game, and made another cameo appearance at camp the following spring. An infielder, Wilson hit .229 in two seasons in the low minor leagues in Colorado's system in 2010-11.
The 29-year-old Wilson is expected to be in the Yankees major league camp in March, where he will participate in pregame workouts and watch games from the Yankees dugout. He will be assigned to the Double-A Trenton roster.
"We've admired Russell's career from afar for quite some time," Yankees general manager Brian Cashman said.
"This is a unique opportunity for us to learn from an extraordinary athlete who has reached the pinnacle of his profession. After talking to a number of our players, there is a genuine excitement in having Russell join us for a short time in camp."
Wilson issued a statement thanking the Rangers for giving him the chance to experience professional baseball again.
"Growing up taking grounders, hitting BP, and throwing deep post routes early in the mornings with my dad and brother is where my love of sports came from, and those memories stick with me every morning I wake up," Wilson said.
"I remember how excited I was when Texas selected me in the Rule 5 Draft in December 2013. During my two springs in Arizona with the Rangers, I was reminded just how much I love the game of baseball."
A two-sport athlete in college, Wilson graduated from North Carolina State University in 2010. In 2011, he left the Rockies organization for football to be a graduate transfer at Wisconsin, leading to the Badgers to a share of the Big Ten title and a Rose Bowl appearance before the Seahawks took him in the third round of the 2012 NFL draft.
"While football is my passion and my livelihood, baseball remains a huge part of where I came from and who I am today," Wilson said.
"I've learned so much on the baseball field that translates to my game physically and mentally playing quarterback in the NFL. ... While I embrace the chance to be a New York Yankee, I will forever be grateful to have been a part of a world class organization like the Texas Rangers."
___
More MLB baseball: https://apnews.com/tags/MLBbaseball