Rangers ripped again by CJ Cron in 5-2 loss to LA Angels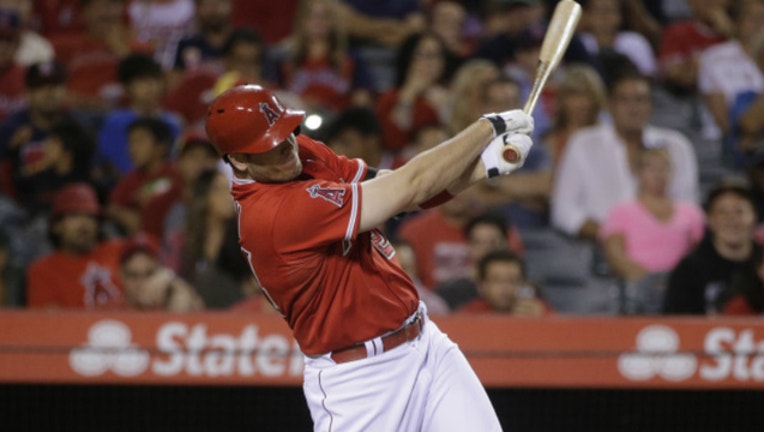 article
ANAHEIM, Calif. (AP) — C.J. Cron's latest monster game against Texas might have had the Rangers thinking they traded for the wrong streaky Angels slugger earlier this season.
Cron tripled, doubled, singled and drove in all five runs, carrying Los Angeles to a 5-2 victory over the Rangers on Friday night.
The Rangers had two outs each time Cron delivered, and they twice had two strikes on the Angels' designated hitter. He came up big every time while improving to a jaw-dropping 23 for 50 (.460) with 17 RBIs against the Rangers this season.
Cron came through with a bases-loaded single in the third against Martin Perez (2-4). The streaky Cron added an RBI triple in the fifth and a run-scoring double in the seventh inning of the Angels' third straight win in a playoff push that probably can't wait another weekend.
"We've had our challenges with C.J. this year, and he showed up big again for them," Texas manager Jeff Banister said. "There was a mistake changeup, a fastball that we didn't get in on him, and then a fastball up and out over the plate. Other than that, we felt we pitched everybody else good. It was C.J. Cron's night. We've made mistakes against him, and he hasn't missed them."
Shin-Soo Choo had an RBI triple in the seventh for the Rangers, who had won six of seven.
The loss trimmed second-place Texas' wild-card lead to 2 1-2 games over Los Angeles, with Minnesota (69-65) between the Rangers (70-63) and Angels (68-66).
"This is a good opportunity (against Texas)," said Cron, who has bounced back impressively from a midseason demotion to the minors. "If we can cut (the Rangers' lead) down a little bit this weekend, that's what we want to do."
Mike Trout and Kole Calhoun scored two runs apiece for the Angels, whose hopes for a repeat postseason appearance are in danger after they dropped 15 of 21 to finish August. They lost seven games in the AL West standings to Houston and ceded the second wild-card spot to the Rangers during the skid.
Perez gave up five hits, four walks and three runs, with Cron doing all of the real damage.
"The two hits to Cron was what hurt him, but you know C.J. can hit, and he's had success against this club," said Rangers catcher Bobby Wilson, a longtime Angels backstop. "He did a good job of putting the barrel on the ball and making something happen. But overall, I thought Martin threw the ball great."
Garrett Richards (13-10) pitched five-hit ball into the seventh inning of his seventh consecutive win over Texas. The right-hander wasn't sharp, allowing a baserunner in every inning while walking a season-high five.
Texas finally got on the board without a hit in the sixth when Prince Fielder scored on Rougned Odor's bases-loaded sacrifice fly to left, crossing the plate an instant before Mitch Moreland was caught off second base for the third out. Angels manager Mike Scioscia protested the call, but it was upheld on video review.
The Rangers trimmed the lead to 3-2 when Shane Victorino couldn't make a running catch on Choo's two-out drive to left, but reliever Trevor Gott eventually got Adrian Beltre on a groundout to end the rally.
FIRST TIME
Reliever Luke Jackson made his major league debut for Texas in the seventh. The 24-year-old former first-round draft pick gave up Cron's RBI double while surrendering two hits, two runs and a walk. "We liked what we saw of him," Banister said. "The ball seemed to be coming out of his hand clean."
TRAINER'S ROOM
Rangers: OF Josh Hamilton was loudly booed by Angel Stadium fans before he grounded out as a pinch-hitter in the seventh. Los Angeles traded the slugger back to Texas in April. His sore right knee is limiting him.
Angels: 2B Johnny Giavotella revealed he is out indefinitely with nerve palsy, which causes double vision. He hasn't played since Aug. 20.
UP NEXT
Rangers: Derek Holland (2-1, 2.82 ERA) makes his fifth start of the season, and his first on the road since last September.
Angels: Jered Weaver (6-10, 4.94 ERA) returns from two poor road starts to face Texas for the first time this season.