Rangers reflect on winning AL West, looking ahead to 2016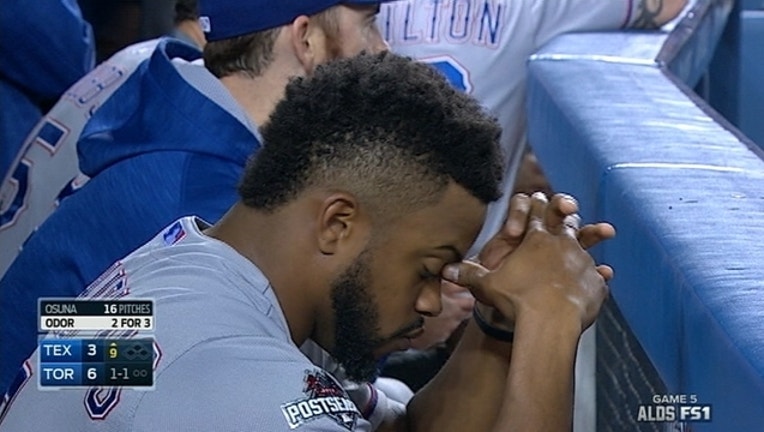 ARLINGTON, Texas (AP) — Jeff Banister is a baseball lifer, but never was a major league manager before the Texas Rangers hired him a year ago Friday.
Exactly 52 weeks after his formal introduction in the same room, Banister again was sitting next to general manager Jon Daniels, this time discussing his first season that included the AL West title after an 88-74 record and the Rangers going to a deciding fifth game in the AL Division Series.
"Very proud of this organization the last 365 days," Daniels said. "We all wish we were in Kansas City (for the AL Championship Series) right now, expected to be there, believe in this club still ... but it doesn't take away at all the pride I think we all feel."
After an AL-worst 95 losses last year, and an 8-16 start a month into this season, the Rangers played more than 162 games for the fifth time in six seasons.
Ace left-hander Cole Hamels and every other player who started Game 5 of the AL Division Series in Toronto on Wednesday, which included that strange nearly hour-long seventh inning, is under contract for next season.
"I feel just as excited today as I did a year ago. The mission for me has not changed one bit," Banister said. "The way things ended for us, the feeling, I'll let that fuel me every day this winter to find a way to make us better, so that we can start spring training with the mindset of where we want to finish."
Before getting to Texas, Banister spent 29 years in the Pittsburgh Pirates organization as a player, coach and instructor on all levels. He was Clint Hurdle's bench coach the last four years.
Hamels is signed through 2018 with a club option for 2019, in a rotation that also returns left-handers Derek Holland and Martin Perez, with Yu Darvish expected back in mid-May after Tommy John surgery last spring training. Sam Dyson and Jake Diekman, key relievers who like Hamels were midseason additions, are also under contract.
The offseason also provides time for players to heal, including third baseman Adrian Beltre, who came out early in ALDS Game 1 and missed the next two games — and clearly was still hurting when he returned for the last two games of the series.
Beltre also had a jammed finger on his left hand the final month, and Daniels revealed Friday that the 36-year-old third baseman played most of second half of the season with a torn ligament in his left thumb.
But Beltre wasn't among the three players who Friday had what Daniels referred to as "cleanups."
Colby Lewis, a 17-game winner who is a potential free agent, had torn meniscus repaired in his right knee, catcher Chris Gimenez had the AC joint in his right shoulder cleaned out, and catcher Carlos Corporan had surgery on his left thumb.
Other potential free agents are starting pitcher Yovani Gallardo and Mike Napoli, who returned to Texas as another late-season addition.
There will be at least two changes on Banister's coaching staff for his second season. Hitting coach Dave Magadan and bullpen coach Andy Hawkins are not returning next season.
The Rangers said it was a mutual decision with Magadan, who would like to seek opportunities closer to his home in Florida after three seasons in Texas. Hawkins informed the team that he is resigning to pursue opportunities with other teams. He was the longest-tenured coach on the major league staff, having been with Texas since Aug. 1, 2008.
The six other members of the staff have been invited to return in 2016. They are third base coach Tony Beasley, bench coach Steve Buechele, assistant hitting coach Bobby Jones, pitching coach Mike Maddux, first base coach Hector Ortiz, and field coordinator Jayce Tingler.