Rangers reeling in AL West quickly falling far behind rivals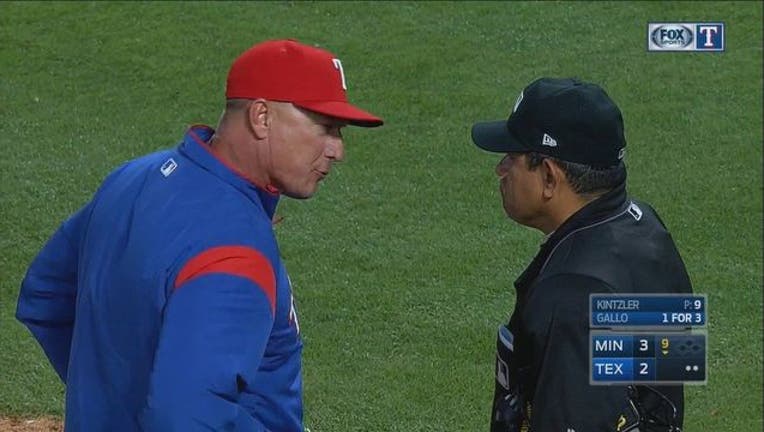 ARLINGTON, Texas (AP) - The Texas Rangers haven't been this far back in the AL West this early in a season in 10 years.
With Rangers hitters swinging and missing at a record pace, and the Houston Astros off to a franchise-best start after a weekend series sweep of their instate division rival, two-time defending champion Texas went into its off day the first Monday of June already with a 15-game deficit.
"A lot of people talk about how many games back and Houston is playing good. ... But we just have to focus on us," veteran right fielder Shin-Soo Choo said.
The Rangers (26-31), who have lost 11 of 14 games since a 10-game winning streak last month, finally got third baseman Adrian Beltre back last week for his season debut. They are still without injured ace lefty Cole Hamels and center fielder Carlos Gomez, and last week former closer Sam Dyson was designated for assignment after his sixth loss.
"We don't look at where we're at," third-year manager Jeff Banister said. "Whether you're in front or whether you're behind, it's going to feel a lot better when you're in front, I'll concede that."
Texas had never been this far back in the division standings under Banister - the worst before this year was 9 1/2 games behind after starting 16-23 in 2015, his first at the Rangers manager. They then won seven in a row and went on to a division title.
The last time Texas was 15 games out of first place in the first week of June was 2007, the second year with Jon Daniels as their general manager. Only a few weeks after that, the Rangers traded Mark Teixeira to Atlanta to acquire Elvis Andrus, then a teenage minor league shortstop, and others who helped set the foundation for the franchise's only World Series appearances in 2010 and 2011.
Daniels said the postseason remains the expectation and belief for the Rangers.
"We're going to be realistic about, and as you get closer to different points in the calendar where we have decisions to make it, we'll look at the circumstances at that time," Daniels said. "But that doesn't change how we feel about the club our belief and expectation we can get it done."
Some of what's gone wrong, and a couple of good things, so far this season for the Rangers:
STRUGGLING AT SECOND
Rougned Odor homered in his first two at-bats of the season, right after the second baseman got a new six-year contract. But Odor, the only Ranger to start every game, is hitting .204 with eight homers. He struck out four times in a 6-5 loss Saturday to the Astros - with runners on base each time, including the last out of the game. He was dropped down in the batting order and homered Sunday, with the bases empty and Texas down 7-0.
SWING AND MISS
Rangers hitters have struck out at least 10 times in each of the past five games, including 18 on Saturday against six Houston pitchers. Texas last month matched an MLB record for a nine-inning game with 20 strikeouts against five Boston pitchers. With 508 strikeouts so far, the Rangers on pace for 1,444 Ks this season - well beyond their 1,253 in 2009.
BETTER WITH AGE?
Now 28 years old, Andrus is already in his ninth season and is the longest-tenured Ranger. The shortstop set career highs with a .302 batting average and eight homers last season. He now has a 10-game hitting streak and is hitting .305 overall with seven homers this season.
LOT OF PITCHES
Yu Darvish (5-4), eligible for free agency after this season, threw 104 pitches to get through five innings Friday against Houston after needing 109 pitches for six innings his previous start at Toronto. He lost both games when the only runs he gave up in both were on three-run homers in the fifth.
BELTRE FOR 3K
After missing the season's first 51 games because of calf issues, Beltre has a six-game hitting streak. With nine hits so far, the 38-year-old third baseman has increased his career total to 2,951 hits.
___
More AP baseball: https://apnews.com/tag/MLBbaseball