Rangers overcome three-run deficit, beat Cardinals 4-3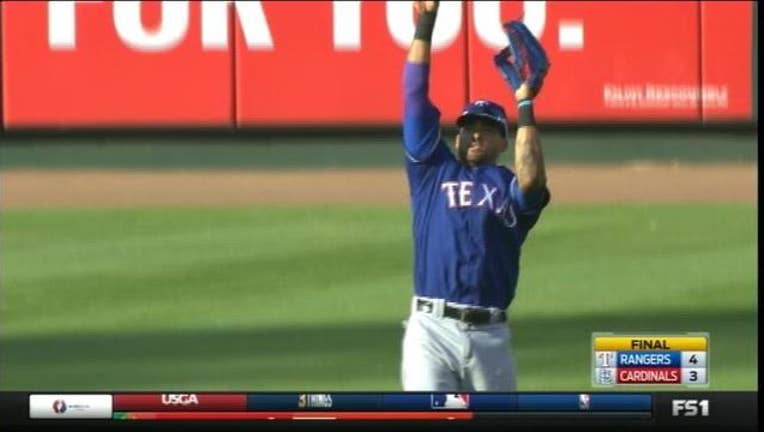 article
ST. LOUIS (AP) — The Texas Rangers had to rally late, and their reward was a place in the franchise record books.
Ian Desmond had a sacrifice fly to cap a ninth-inning rally and the Rangers overcame a late three-run deficit to beat the St. Louis Cardinals 4-3 on Saturday and win a team-record ninth consecutive series.
The Rangers beat the Cardinals 1-0 on Friday to begin the three-game set and have won seven of eight and 13 of 16. Their 44-25 mark is the best in team history after 69 games.
"It's special in that it's a conversation piece for everybody," Banister said. "But, I don't think they're going to give away any badges that say 'these are the most series wins in the history of the franchise.' We're just going to continue to play the game of baseball the way we have been."
The Rangers scored two runs in each of the eighth and ninth innings on Saturday and are an AL-best 15-4 in one-run games.
"That just shows that we never quit," said Desmond, who also had a double in the eighth inning. "We pride ourselves on never giving up."
Outfielder Shin-Soo Choo also figured prominently in both big innings. He singled and scored the first run in the eighth and drew a bases-loaded walk to tie the contest in the ninth.
"Everybody did a great job in every situation," Choo said.
Texas overcame a 3-2 deficit by scoring off closer Trevor Rosenthal (2-2) and Kevin Siegrist in the ninth.
Rougned Odor and Jurickson Profar singled to start the rally. Rosenthal hit Robinson Chirinos to load the bases, and Choo coaxed a walk off Siegrist to tie it. Desmond, who threw a runner out at the plate in the fifth, then brought in Profar with a fly ball to left.
"It's about character, a bunch of guys pulling for each other," Desmond said. "It works for all of us."
Cardinals starter Carlos Martinez pitched seven scoreless innings, allowing four hits and a walk. He struck out four and has a 1.23 ERA over his past four starts.
Jake Diekman got his second save in as many chances. Shawn Tolleson (1-2) pitched a scoreless eighth to get the win. Closer Sam Dyson was given the day off after working four of the last six games.
Texas starter Nick Martinez gave up six hits and three runs in 4 1/3 innings. He is replacing Yu Darvish in the starting rotation while Darvish is on the 15-day disabled list with right shoulder discomfort.
"I guess I kept us in there long enough for us to get the win," Nick Martinez said. "It was a tremendous come-from-behind win."
Kolten Wong's run-scoring single in the fifth pushed St. Louis' lead to 2-0. Stephen Piscotty followed with a bases-loaded single for a 3-0 lead.
The Cardinals entered the contest 33-0 when leading after the eighth.
"It stings right now, that's for sure," St. Louis manager Mike Matheny said. "Over the course of the season, you go back and remember games that you felt you should put away. And this was one."
Rosenthal was removed after allowing all three runners to reach base. Matheny did not hesitate to pull his closer with a 3-2 lead.
"I was confident out there today, I thought I had good stuff," Rosenthal said. "But, I'll be back ready tomorrow and ready to go."
St. Louis infielder Matt Carpenter reached base three times and extended his hitting streak to 11 games with a double in the seventh.
TRAINERS' ROOM
Rangers: RHP Tom Wilhelmsen declined an outright assignment to Triple-A Round Rock, making him a free agent.
Cardinals: OF Tommy Pham was recalled from Triple-A Memphis. Pham suffered an oblique injury on opening day, then hit .250 with four home runs and 19 RBIs in 37 games during combined stints in Memphis and Double-A Springfield. Pham struck out as a pinch hitter in the seventh. ... OF Randal Grichuk was sent to Memphis to make room for Pham. Grichuk was hitting .206 with eight home runs and 27 RBIs in 62 games.
UP NEXT
LHP Martin Perez (6-4. 3.38) will start for the Rangers against RHP Mike Leake (5-4, 4.08) in the final game of the series Sunday. Perez has won each of his last five starts and is 6-2 with a 2.93 ERA over his last 10 starts. Leake is 5-1 with a 2.66 ERA in his last seven starts.