Rangers hungry to get back to leading the AL West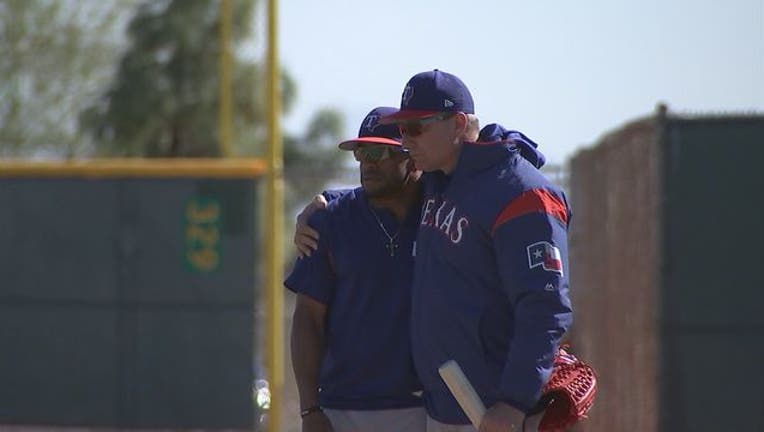 article
SURPRISE, Ariz. (AP) - The Texas Rangers are famished for success after a down 2017.
After winning back-to-back AL West championships, the Rangers went from winning 97 games in 2016 to a 78-84 record last season and finishing 23 games behind the Houston Astros.
"Hungry dogs run faster," Rangers manager Jeff Banister said Tuesday, the first day of the club's full-squad workout. "That may be a T-shirt."
Pitchers, by design, did not throw batting practice for the initial day with position players on the field.
Shortstop Elvis Andrus was unable to make it through the first day, leaving early with back spasms. Left-hander Matt Moore, who had been slowed by a tender right knee, was cleared to participate in pitcher's fielding practice. Left-hander Martin Perez, who suffered a broken right arm in a December incident with a bull on his Venezuelan ranch, is improving.
"He's throwing only," assistant general manager Jayce Tingler said. "He's progressing, just more precautionary. He's right on pace."
The preseason forecasts are the Rangers will not be able to keep pace with the Astros and the Los Angeles Angels, who won the winter sweepstakes in signing Japanese two-way star Shohel Ohtani.
"Outside expectations are not anything we judge ourselves on really," Banister said. "It's what our internal expectations are. We play well in that underdog position. We've shown that.
"When you go through some adverse times you can look at last year and think of different moments and how we responded to them. I think the excitement is there's a group of guys in there that can't want to respond to what they encountered last year," he said.
The new-look Rangers will have Joey Gallo starting at first base with Mike Napoli gone and Delino DeShields replacing Carlos Gomez in center.
"Joey Gallo, there's a lot of excitement there, just the power potential, but the ability to improve on the command of the strike zone and the athleticism he has on the field," Banister said.
Gallo hit 41 home runs last season, while playing mostly at third base with Adrian Beltre restricted to 94 games because of injuries. Gallo also struck out 196 times, which ranked second in the American League.
DeShields played mostly left in 2017, but is shifting to center this year.
"We're going to get a really good look at who he is in center field," Banister said. "We know what he does for us offensively. Just look at the stats, the runs scored per game when he's in the game and the winning percentage."
Banister said Ryan Rua, Drew Robinson and Willie Calhoun, who was acquired from the Los Angeles Dodgers in the Yu Darvish trade, are the left field candidates.
The Rangers need a bounce back year from Rougned Odor, who hit a pitiful .204 last season. It was all or nothing for Odor, who had 30 home runs, but struck out 162 times. Odor also committed a major-league high 19 errors by a second baseman.
"Rougned Odor is primed and ready to get back to status of play he's accustomed to and improve on that," Banister said.