Rangers held to 1 hit, lose ground with 6-0 loss to Mariners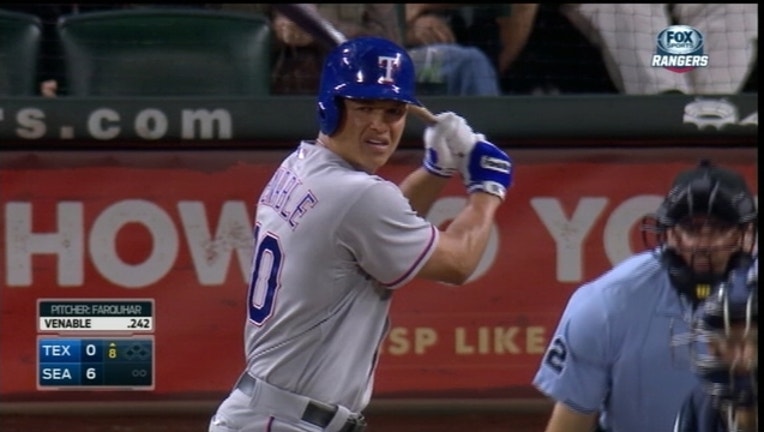 article
SEATTLE (AP) — The Texas Rangers would be hard-pressed to believe Vidal Nuno had not won a game in more than a year.
The Rangers managed only one hit in seven innings against Nuno, winless in his 20 previous starts, and two Seattle relievers completed the one-hitter as the Mariners went on to a 6-0 victory Wednesday night.
"It wasn't like he was throwing pitches in the heart of the plate," said Rangers manager Jeff Banister, whose team was held to one hit for the fourth time this season. "There were some tough pitches he threw to us."
Texas fell two games behind first-place Houston in the AL West. The Astros defeated Oakland 11-5.
Mark Trumbo and Kyle Seager each had four hits and a two-run homer for the Mariners.
Nuno (1-2) had gone 20 starts without a win, which was tied with Atlanta right-hander Shelby Miller for the longest active stretch in the majors. The left-hander struck out a career-high 10 and yielded only Prince Fielder's first-inning single. He walked two, both in the second inning, and hit a pair of batters with pitches.
"It was a jam shot. It was a broken bat. Unfortunately it was a hit and you've got to move on," Nuno said. "And, sure enough, they didn't get any hits after that."
As a starter, Nuno was 0-10 with a 4.17 ERA since his previous win on June 27, 2014, with the New York Yankees. Nuno also made 24 relief appearances during that span without a victory.
"Give him credit today," Rangers shortstop Elvis Andrus said. "A good job against us, kept us off balance and we weren't able to create an opportunity on him."
Danny Farquhar and Carson Smith each followed with a perfect inning.
Martin Perez (2-5) allowed five runs and seven hits with three walks in five-plus innings.
"I think the story was Seagar and Trumbo, making a couple of mistakes to both those guys," Banister said. "Overall, I didn't think he threw that badly, but couldn't quite find the rhythm with his fastball and he couldn't get it down into a location he wanted to."
Trumbo put the Mariners up 3-0 in third with a two-run homer to left field following a one-out single by Seager.
Seattle extended the lead to 5-0 in the fifth. Ketel Marte drew a one-out walk and Seager followed with his 23rd home run, driving a 1-2 pitch to right-center.
"That was big for us, to extend the lead a little bit and then Seager come back and add on, that really takes the pressure off," Mariners manager Lloyd McClendon said.
The Mariners added a run in the seventh on a walk to Shawn O'Malley and singles by Seager and Trumbo.
Seattle took a 1-0 lead in the first, loading the bases on consecutive one-out singles by Seager, Trumbo and Robinson Cano. Jesus Montero hit a potential double-play grounder to second baseman Rougned Odor, who mishandled the ball and settled for the force at second, allowing Seager to score.
"Everyone contributed," Nuno said. "We set the tone early. We got on the board in the first inning and we just went on from there."
Texas was shut out for the 10th time this season, including three of the four losses in the first nine games of a 10-game road trip that concludes Thursday in Seattle.
TRAINER'S ROOM
Rangers: CF Delino DeShields, who sprained his left knee on a hard slide Monday, sat out and probably will not play in the series finale Thursday. "He may push me to think about tomorrow, but I would think the earliest would be Friday," Banister said before the game. "That's where I'm looking at. I'd like to get through the next two days and not need to use him."
Mariners: OF Nelson Cruz, second in the majors with 39 homers, sat out for the sixth consecutive game with a strained right quadriceps. "He's close. You've got to be able to run," McClendon said. "He's done some steps. We'll test him today, probably." ... OF Franklin Gutierrez was sidelined for a fifth straight game with a strained right groin.
ON A ROLL
Seager extended his hitting streak to 12 games in the first inning with a perfect bunt down the third base line against the defensive shift. During the streak, Seager is batting .511 with four doubles, five home runs and 15 RBIs. ... Trumbo's first hit extended his hitting streak to 11 games.
UP NEXT
Rangers: LHP Derek Holland (3-1, 2.37 ERA) is 3-0 with a 2.15 ERA in four starts since coming off the disabled list Aug. 19. He is 3-0 with a 1.39 ERA in six career games — four starts — at Safeco Field.
Mariners: RHP Felix Hernandez (16-8, 3.65) has won his last two starts, pitching eight innings each time. He is 15-21 in 45 starts against Texas, his most vs. any opponent, but 3-0 with a 2.18 ERA in three outings this season against the Rangers.