Rangers' Fielder unhappy with benching, respects decision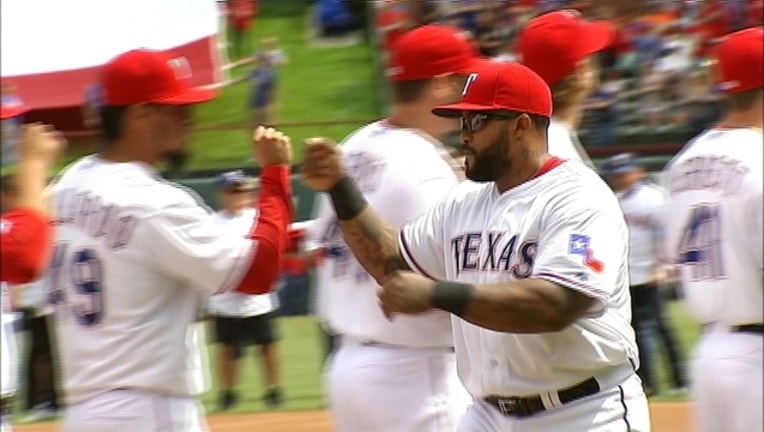 article
ARLINGTON, Texas (AP) — Prince Fielder shot back with an emphatic expletive when the struggling Texas slugger was asked if he needed a mental break.
As for whether any physical problems could explain a .187 batting average that led to his benching the past two games by manager Jeff Banister, Fielder said his bones and joints weren't hurt.
"Just my heart and my feelings," said the burly veteran, who had neck surgery two years ago.
Fielder, who is hitting .187 and has just one homer in his past 39 games, was replaced at designated hitter by Jurickson Profar again Sunday against Seattle. Profar, the team's former top prospect, had a hit in all eight games with a .378 average since coming up from the minors.
Profar filled in at second base during Rougned Odor's seven-game suspension for punching Toronto's Jose Bautista. Odor's return Saturday prompted Profar's move to DH.
Fielder said he wasn't happy with Banister's decision, but understood and respected it.
"Never done this before," he said. "It happens. It's baseball. Last year, we had a lot of issues, the same thing with a lot of guys. They turned it around, had good years. So I'm no different. Not to mention, we're winning. Last year, we weren't winning. We're winning now. Who I am to sit here and complain? We're winning."
Fielder was among the AL's leading hitters the first few months last year without many homers before finding his power stroke and making the All-Star team with 14 homers and 54 RBIs at the break. He finished last season at .305 with 23 homers and 98 RBIs.
His average has hovered around .200 most of this season, although he was still driving in runs early in the year. Not lately, and he was in an 0-for-12 tailspin when Banister made the move.
"I look at this as a 20-second timeout for a guy that needs a 20-second timeout," Banister said. "Because in his own words, never been here before. This is new territory. When you're in new territory, maybe you look through a different lens. Who knows? Might be a brave new world on the other side for him."
The Rangers traded for Fielder when he was two years into the nine-year, $214 million contract he signed with Detroit in 2012. There are four full years remaining on that deal, worth roughly $100 million.
With his batting average nearly 100 points below his career mark of .283, Fielder bristles at questions over the accompanying loss of power. He recently ended a career-long homer drought at 34 games.
"You guys can have the power," Fielder said. "I'm trying to get hits. Trying to drive in runs. Trying not to get benched for two days. I'm just trying to play baseball. I don't care about homers."