Rangers' belief boosted by sweep of AL West-leading Astros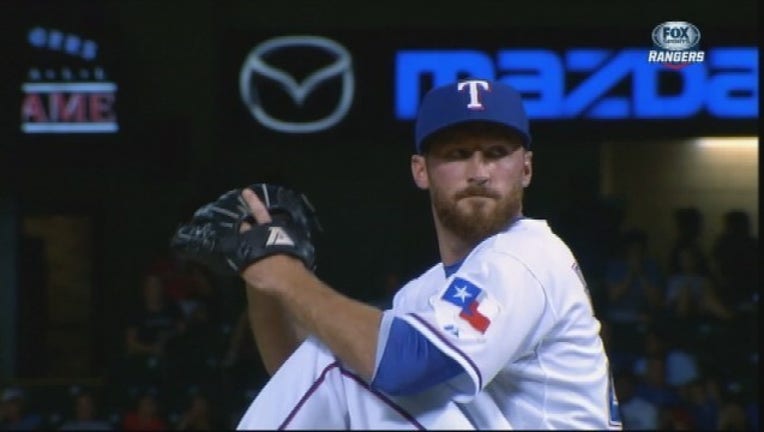 article
ARLINGTON, Texas (AP) — The Texas Rangers finally had a good time at home.
After struggling so much on their home field this season, the Rangers completed a three-game sweep of the AL West-leading Houston Astros that wrapped up a 7-3 homestand against three playoff contenders.
"It put a lot of energy in that dugout and on that field, and solidifies the belief in where these guys think they can go, the confidence they have," first-year Rangers manager Jeff Banister said. "It was a big series for us."
Texas (54-53) enjoyed a day off Thursday with a winning record for the first time since July 3. The Rangers were the closest they had been to the Astros since the end of June, within five of the division lead, and only two games back in a crowded AL wild card race with one-third of the regular season left.
"No one is running away with anything, and it's relatively early, but these are the things I feel you can get on a roll with," catcher Chris Jimenez said.
Newly acquired Cole Hamels makes his second start for the Rangers in the series opener Friday night at Seattle, a week after Texas sent a package of prospects to Philadelphia before the non-waiver trade deadline.
The only loss for Texas its last eight games was Hamels' debut Saturday night against San Francisco, even though the left-hander worked 7 2-3 innings and left the game with a three-run lead.
Texas opened the homestand with consecutive losses to the New York Yankees, including a 21-5 debacle after taking a 5-0 lead in the first inning. At that point, the Rangers had lost 12 of 13 home games, but then won the last two games for a series split against AL East-leading New York.
The Rangers took two of three from the defending World Series champion Giants before capping the sweep of the Astros that ended with consecutive one-run victories as the bullpen threw nine of the 18 innings.
"The pitching, it hasn't all been great, but at times very efficient, very effective," Banister said. "And then just some gutsy baseball really."
Right-hander Sam Dyson has appeared in four games since his trade from Miami on Friday. He has his only two major league saves in that span, inducing a game-ending double-play grounder with the bases loaded in a 2-1 finale against San Francisco. He finished the 4-3 win over Houston on Wednesday night.
Shawn Tolleson has 20 saves, but was unavailable for the Astros finale after pitching in six of the previous seven games.
Jake Diekman, a lefty that came with Hamels from the Phillies, has four scoreless innings in five appearances.
"It's a big plus for us in searching for those arms, searching for those players that can handle those situations," Banister said.
While the Rangers are now 23-29 with some confidence at home, their 31-24 record on the road matches the Chicago Cubs for the best in baseball.
Texas has 23 games left against the teams ahead of them in the AL West and race for the two wild cards (Houston, Los Angeles Angels, Toronto, Baltimore and Minnesota). They also have 10 games vs. Tampa Bay and Detroit, the two teams behind them for wild-card chase.
"From now on, that's the way we have to play, one day at a time, don't try to do too much and enjoy it," said shortstop Elvis Andrus, one of five Rangers remaining who were part of both 2010 and 2011 World Series appearances. "It was a really great homestand for us, and we're going to carry that momentum."