Rangers acquire Matt Moore from Giants for minor leaguers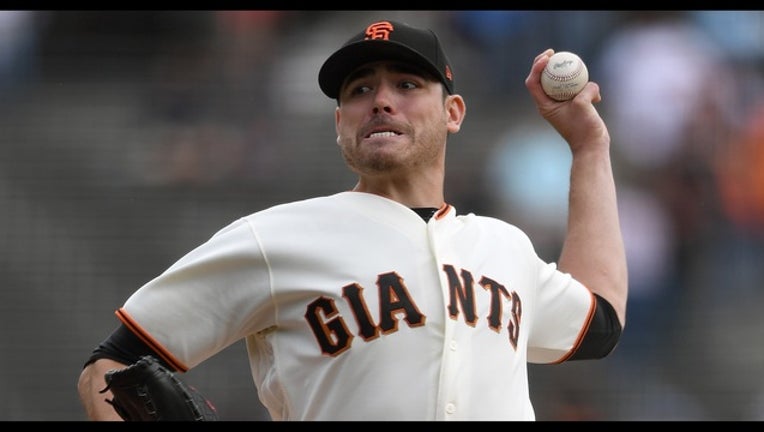 article
SAN FRANCISCO (AP) - Texas acquired Matt Moore in a trade with the San Francisco Giants on Friday, raising the possibility of four left-handers in the Rangers' rotation.
"As far as the four lefties, generally it's a good thing," Rangers general manager Jon Daniels said. "I realize there's some very heavy right-handed clubs in our division. With the exception of Martin (Perez), the other three guys have been very effective against righties in their career."
Texas sent minor league right-handers Israel Cruz and Sam Wolff to the Giants. The Rangers also received $750,000 in international signing bonus pool allotment from the Giants.
Perez, a 13-game winner, and Cole Hamels, another lefty who won 11 games, were the only holdover Texas starters when the offseason started. Counting Moore, the Rangers have added three options to their rotation.
Right-hander Doug Fister agreed to a $4 million, one-year deal that could be worth up to $11.5 million over two seasons, and lefty Mark Minor received a $28 million, three-year contract.
Minor was a reliever for Kansas City last season but previously was a starter for Atlanta before missing the 2015 and 2016 seasons with shoulder issues. Daniels said the club still intends to prepare Minor as a starter in spring training.
"We talked about when he signed, both he and us are aware that that could change based either one the club, kind of how it's shaping out, or if he has any issues getting stretched out," said Daniels, who is interested in acquiring even more starting pitching.
Right-hander Andrew Cashner, another 11-game winner for Texas, became a free agent after completing a $10 million, one-year deal.
San Francisco last month exercised Moore's $7 million option for 2018. He went 6-15 with a 5.52 ERA in 174 1/3 innings last season, setting a career high for losses, as the Giants finished last in the NL West. He allowed a career-worst 107 earned runs.
"This move allows us to reallocate our resources to address our position player needs," Giants general manager Bobby Evans said. "In addition, we are pleased to add two power arms to our system. Our focus remains to strengthen our outfield defense and our everyday lineup."
Texas went 78-84 and finished third in the AL West behind the World Series champion Houston Astros and the Los Angeles Angels.
San Francisco - last in the NL West in 2017 and having lost out in pursuits of Giancarlo Stanton and Shohei Ohtani - acquired Moore at the 2016 trade deadline from Tampa Bay for third baseman Matt Duffy. The lefty's best season came in 2013, when he was 17-4 with the Rays.
Daniels said the Rangers were interested in acquiring Moore when the Giants got him.
"Part of what was attractive at the time was the contract as well as getting him in his prime years," Daniels said. "It felt like circumstances, the situation allowed us to pick him up for a little bit less than we would have been looking at in the past."
In 2011, Moore pitched seven scoreless innings at the Rangers in his playoff debut in Game 1 of an AL Division Series, allowing just two hits in a 9-0 Tampa Bay victory. The Rangers won the next three games to take the series.
In his only postseason start for the Giants, Moore had 10 strikeouts in eight innings to help San Francisco to a 5-2 lead over the Chicago Cubs in Game 4 of the 2016 NL Division Series. The Cubs rallied in the ninth for a 6-5 victory to win the series on their way to the World Series title.
The 20-year-old Cruz was 3-2 with a 5.91 ERA in three starts and nine relief appearances for the Arizona League Rangers in 2017 this year. Wolff, 26, was 2-3 with a 3.54 ERA and three saves in 16 games at Double-A Frisco this year and 2-2 with a 2.38 ERA in 24 games at Triple-A Round Rock. He had surgery in August to repair a torn right flexor tendon.
___
AP Sports Writer Schuyler Dixon contributed to this report.
___
More MLB baseball: https://apnews.com/tags/MLBbaseball