Randle, Davis push Pelicans past Mavericks 132-106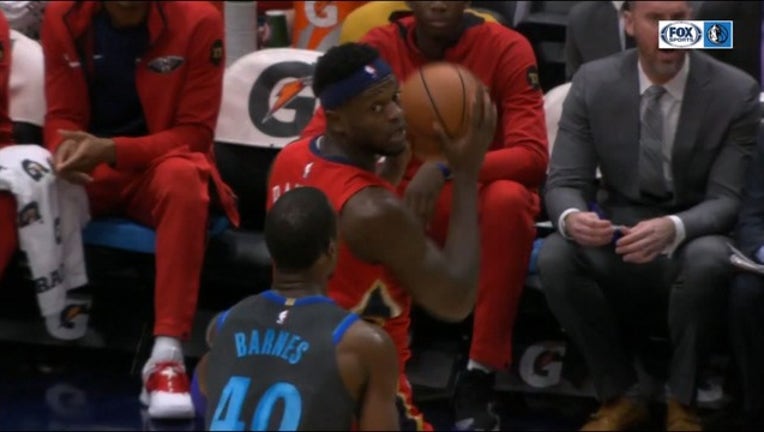 article
NEW ORLEANS (AP) - Julius Randle had 27 points and 18 rebounds and the New Orleans Pelicans beat the Dallas Mavericks 132-106 on Wednesday night.
Anthony Davis had 27 points, a career-high nine assists and five blocks despite twisting his ankle and briefly leaving the court for treatment after stepping on Dorian Finney-Smith's foot.
Jrue Holiday had 17 points and four steals for New Orleans, which largely controlled the contest while winning for just the third time in nine games.
Harrison Barnes had 16 points and Wesley Matthews 15 for the Mavericks, who came in having won five of six but had trouble with the Pelicans' up-tempo pace while playing one night after beating Portland at home.
J.J. Barea scored 14 points, and Dwight Powell added 12 points and 10 rebounds for Dallas, which also was short-handed as usual starting guard Dennis Smith Jr. sat out with a sprained right wrist.
E'Twaun Moore scored 17 points in a reserve role, and New Orleans never trailed after his 20-foot jumper put the Pelicans up 32-31 at the end of the first quarter.
Running the floor relentlessly, and effectively after many of the Mavs' 18 turnovers, the Pelicans scored 60 points in the paint and 29 on fast breaks.
New Orleans led by 16 at halftime, by as many as 25 in the third quarter and 29 in the fourth.
TIP-INS
Mavericks: As Powell dunked early in the fourth quarter, he was poked in eye by Davis. Dallas coach Rick Carlisle received a technical foul for shouting at officials about the play and Holiday made the technical foul shot. ... Finney-Smith had 12 points and Jalen Brunson had 11 points. ... The Mavs shot 42.9 percent (39-of-91) and missed 32 of 46 3-point attempts.
Pelicans: F Nikola Mirotic, New Orleans' third-leading scorer, missed his second straight game with an illness. Randle started in his place. ... The Pelicans shot 55.4 percent (51-of-92) overall and an even better 58.6 percent (17-of-29) from 3-point range. ... Darius Miller made four of his six 3-point shots for all of his 12 points off the bench while Moore made three of four. Davis made both of his shots from deep and Randle made two of three. ... Holiday, who has struggled with turnovers at times, finished with eight assists and only one turnover.
UP NEXT
Mavericks: Host Houston on Saturday night.
Pelicans: Host Memphis on Friday night.
___
For more AP NBA: https://apnews.com/NBA and https://twitter.com/AP_Sports