Prescott's rookie flashback gives Cowboys building block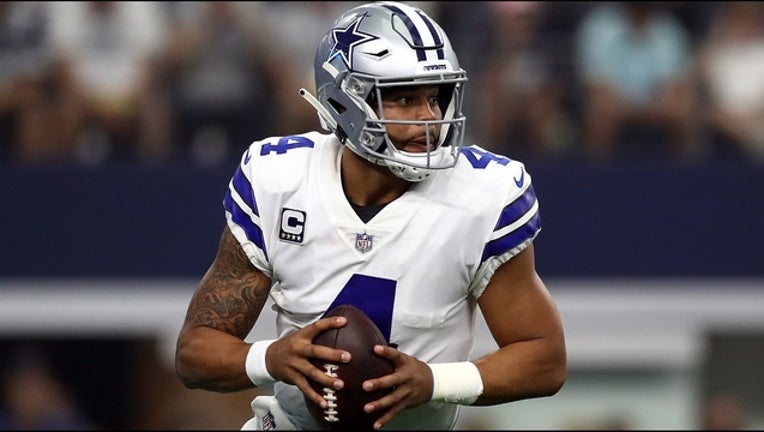 ARLINGTON, Texas (AP) - Dak Prescott looked a lot like the NFL Offensive Rookie of the Year from two seasons ago in the Dallas Cowboys' win over the Detroit Lions.
The star quarterback had clutch plays, big throws and long completions in a 26-24 win capped by a two-minute drive to the winning field goal as time expired. Considering how rough he and the Dallas offense looked at times through three weeks, it was quite an answer.
The practical part of the victory was getting the Cowboys (2-2) back to .500, tied with defending Super Bowl champion Philadelphia and a half-game behind idle Washington in the NFC East. The affirmation of his resolve can't be underestimated either.
"I know what I can do and I know what kind of player I am, and I never waver and I'm never going to get down on myself," Prescott said. "All of us have good days and bad days, and if all of us were judged by our bad days at our jobs, we'd all be in trouble."
Prescott hadn't had a 200-yard passing game this season, and just two in the previous 11 going back to last year. He took care of that with 255 yards and two touchdowns.
Before his decisive 34-yard throw to running back Ezekiel Elliott behind the defense to set up the winning kick, Prescott saved the final drive by scrambling backward to pick up his own fumble and throwing an incompletion to preserve a manageable third down. He converted it.
Prescott had just one completion of at least 20 yards in each of the first three games. There were four against the Lions, all for more than 30 yards.
While Elliott got the headlines with a career-high 240 yards from scrimmage, Prescott filled the role he so often mastered in leading the Cowboys to an NFC-best 13 wins after replacing the injured Tony Romo in 2016.
The former fourth-round pick also reminded everyone how much the Cowboys need the efficient, turnover-free version of Prescott to get back to the playoffs after missing the postseason in his less-than-spectacular encore a year ago.
"I just have the feeling that Dak is going to help us win and help the team in so many different ways," owner and general manager Jerry Jones said. "I just don't know that there is a limit to the nuances of how he might be able to contribute and to me that's a great thing."
Other than Elliott, the Cowboys have struggled to find an identity on offense, and the search is likely to continue Sunday at Houston (1-3).
Prescott ran quite a bit out of the zone read in a win over the New York Giants. The Cowboys used some no-huddle to find a better tempo against Detroit. And while rookie Michael Gallup had one of the 30-plus-yard catches, he was the only one among the receivers.
That group is still working to see how best to try to replace the lost go-to plays of tight end Jason Witten and the big-play potential of Dez Bryant, who was released in a cost-cutting move in the offseason.
The win over the Lions was the best Prescott has looked in putting passes in places for the new cast of receivers to have an impact. What amounted to the winning throw to Elliott was the best illustration.
"It's been one player, here or there these first three games that we're off and that's the reason we're off," Prescott said. "We still left plays out there, so it's important for us to go back this week and use this confidence and this momentum to go clean these plays up."
NOTES: Coach Jason Garrett said receiver Terrance Williams will return to the team Tuesday after an excused absence going into the weekend. The sixth-year receiver was inactive for the first time. ... Executive vice president of personnel Stephen Jones said Elliott was battling bursitis in one of his knees along with an ankle injury. Garrett said his practice participation would be determined during the week.
___
More AP NFL: https://apnews.com/tag/NFL and https://twitter.com/AP_NFL