Prescott-Wentz showdown on horizon? Well, Romo might be back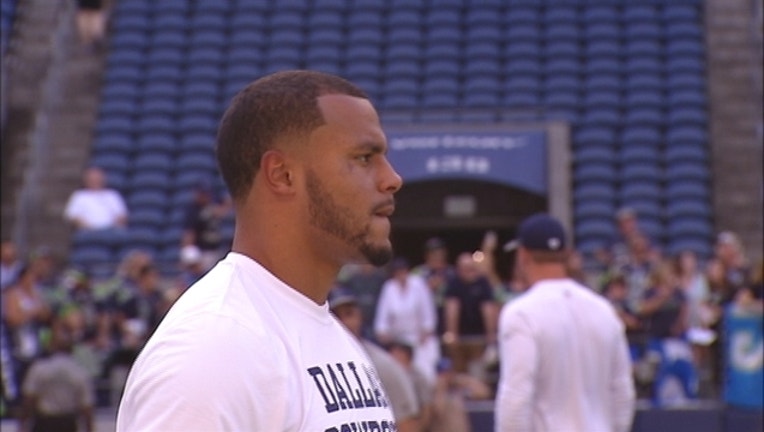 article
ARLINGTON, Texas (AP) — Get ready for talk of a rookie quarterback showdown on Oct. 30 between the sudden stars of the NFC East: Philadelphia's Carson Wentz and the Cowboys' Dak Prescott in Dallas.
There's just a slight problem with the scenario for that prime-time game on Prescott's new home field: It might be Tony Romo's first game of the season coming off a back injury.
The Cowboys sure look like they'll be in good hands until Romo returns — whenever that is — and Chicago might be wondering how long it can survive without Jay Cutler.
Prescott led scoring drives on all four Dallas possessions in the first half before throwing his first career touchdown pass in fellow rookie Ezekiel Elliott's first 100-yard game, and the Cowboys beat the Bears 31-17 on Sunday night to snap an eight-game home losing streak.
"When you see Dak perform at the level that he is performing and you project what his future might be, then you feel good about the future," owner and general manager Jerry Jones said. "The other thing we feel good about is Romo is coming along, I would say, outstandingly."
Wentz and Prescott are NFL record-setters as rookies, with the two highest numbers of passing attempts without an interception to start a career. Wentz, the No. 2 overall pick, is at 102 while leading the Eagles to a 3-0 start and Prescott is at 99.
With his second straight win, Prescott doubled the number of victories the Cowboys (2-1) had in 14 games without the injured Romo over three seasons before the fourth-round pick showed up.
But when Romo's ready, Romo plays. He broke a bone in his back in the preseason, and Dallas' first game against the division-leading Eagles is a likely return date.
"I'm three games into the National Football League. There is a lot that I can learn from," said Prescott, who was 19 of 24 for 248 yards and had a rushing TD for the second straight week. "There's a lot I haven't seen, so I am going to continue to keep my head down and keep working."
Things we learned in the first home victory for the Cowboys since last year's opener, which was a week before the first of two broken left collarbones that kept Romo out of 12 games in a 4-12 season that included a 1-11 record without Romo:
GRIM BEARS OUTLOOK
Chicago is 0-3 for the second time in two seasons under John Fox after falling behind 24-3 at halftime when Brian Hoyer had trouble moving the offense filling in for Cutler, who was out with a sprained right thumb.
If Cutler doesn't come back soon, the Bears will have to figure out how to generate offense before falling behind by three touchdowns. "We've got the right guys in that locker room, and I think we'll improve," Fox said.
WHAT'S UP WITH DEZ
Dez Bryant caught Prescott's first career touchdown pass in the fourth quarter after injuring his right knee on his first catch early and returning to the game. Jones said the 2014 All-Pro receiver likely had a sprained knee, and an MRI was planned this week.
The Cowboys also have injury issues on the offensive line. They played without Pro Bowl left tackle Tyron Smith (back), and left guard La'el Collins was knocked out of the game by a sprained foot.
DINGED DEFENSE
The Bears got their first look at life without linebackers Danny Trevathan and Lamarr Houston, and gave up four scores in four drives in the first half. Dallas had 447 yards, including 199 on the ground.
"If you say it's not an excuse, it's an excuse," Fox said. "Hopefully, we've got some guys that can fill in."
PLENTY OF ELLIOTT
Elliott, the fourth overall pick in the draft, got a career-high 30 carries a week after getting benched because of two fumbles in a win over Washington. He had 140 yards rushing, including a 14-yard run when he hurdled safety Chris Prosinski.
The Cowboys used him extensively with a lead in the fourth quarter, and that's the model they like. It helped Dallas win the NFC East two years ago.
TOO LATE
Hoyer was 30 of 49 for 317 yards with a pair of touchdowns to tight end Zach Miller, but most of it was too late. The Bears were outgained 274-114 while falling behind 24-3 in the first half.
"You've just got to take that and build on it, and figure out how to move the ball a little better," Hoyer said after his 27th career start with his fourth different team.
___
AP NFL website: www.pro32.ap.org and www.twitter.com/AP_NFL
___
Follow Schuyler Dixon on Twitter at https://twitter.com/apschuyler