Playoffs or bust? Looking that way for Cowboys in 2018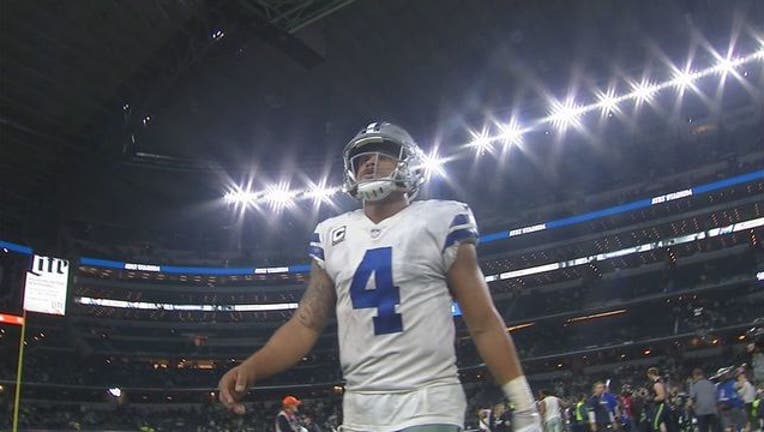 article
FRISCO, Texas (AP) - Dak Prescott couldn't duplicate his remarkable rookie year even when fellow first-year star Ezekiel Elliott wasn't suspended.
Now the quarterback-running back combo for the Dallas Cowboys will have to figure out how to get back to the playoffs in what could be a critical season for the future of coach Jason Garrett.
The Cowboys (9-7) missed the postseason a year after being the top seed in the NFC when Prescott had one of the best rookie seasons for a quarterback in NFL history and Elliott led the league in rushing.
Dallas can blame a slow start while Elliott used the courts to fight his six-game suspension over domestic violence allegations , and the three straight losses after he finally ran out of legal options.
All along, Prescott often struggled, throwing more than three times as many interceptions with a passer rating nearly 20 points lower for an offense that dropped to 14th in the NFL from fifth.
"If you want to call it that," Prescott said, still refusing as he had before the season to acknowledge the term "sophomore slump" after a season-ending 6-0 win over Philadelphia with the Cowboys already eliminated from the playoffs.
"I think I played some of my best ball of my career this year and obviously I played some of my worst ball of my career this year. So you can call it what you want. But like I said, I learned from it and call it a growing year."
Garrett has missed the playoffs in five of his seven full seasons, but owner and general manager Jerry Jones reiterated on his radio show Tuesday that Garrett will return.
Jones also said he planned to bring back offensive coordinator Scott Linehan and defensive coordinator Rod Marinelli while suggesting there will be changes to the coaching staff.
But Jones has said he believes the Cowboys have the pieces to end a nearly 25-year run without a trip to the Super Bowl, or even an NFC championship game. A second straight season without the playoffs could be the end for Garrett.
"He certainly has the mentality of doing things differently," Jones said. "Again, not just to be doing them differently, but basically recognizing that we have got some things we need to do differently."
Offseason story lines for the Cowboys, who have alternated between making and missing the playoffs the past four seasons:
ALL IN WITH DAK: Jones and Garrett still speak about Prescott in terms of a franchise quarterback. He's an extreme bargain as a fourth-round pick, and next offseason will be the first time they have to think about his second contract. If the Cowboys flop again, it will be an interesting dilemma. "We think he's an awfully good quarterback to have leading your franchise," Garrett said.
ELLIOTT OFF THE FIELD: With the NFL investigation that led to a suspension still looming last offseason, Elliott had trouble keeping his name out of the headlines. He was caught on video pulling down a woman's shirt during a St. Patrick's Day parade - an incident that was referenced in the league's letter detailing his punishment, although it wasn't a factor in the ruling.
A quiet offseason will be an important step in putting the suspension behind him. "I think he's aware how difficult it was this year in terms of things off the field," executive vice president Stephen Jones said on his radio show Tuesday. "I'm more convinced than ever that he wants to be a great player in this league."
DECLINING DEZ: There's no question that receiver Dez Bryant is trending downward since his All-Pro season in 2014, which earned him a $70 million, five-year deal. He hasn't come close to a 1,000-yard season and probably has one year left to prove he's worth the big contract. Bryant said he battled knee tendinitis and frustration over his role in the offense.
CLASS OF 2014: The top three topics on contracts during the offseason are the Cowboys' top three picks in 2014: right guard Zack Martin; defensive end DeMarcus Lawrence, who tied for second in the NFL with 14½ sacks; and linebacker Anthony Hitchens. The Cowboys want to get an extension done with Martin even though the two-time All-Pro has the fifth year on his rookie deal remaining. Lawrence could get the franchise tag.
___
Corrects previous version with Tuesday for comments from Jerry Jones, not Monday.
___
More AP NFL: http://www.pro32.ap.org and http://www.twitter.com/AP_NFL