Patriots' White House visit marred by Hernandez' suicide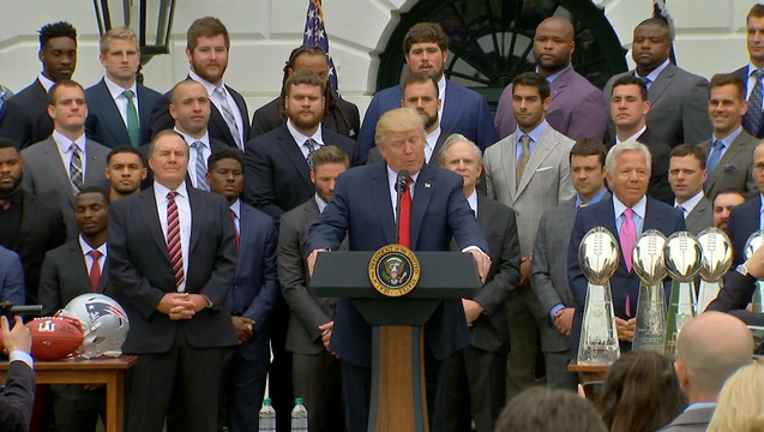 article
WASHINGTON (AP) - The Super Bowl champion New England Patriots made a traditional celebratory visit to the White House Wednesday, a normally joyous ritual marred by the prison suicide hours earlier of former teammate Aaron Hernandez.
Not all the team members were on hand to accept personal congratulations from President Donald Trump. Star quarterback Tom Brady notified the White House that he was dealing with a "personal family matter" and would not attend the ceremony. Six others had already signaled that they would take a pass, some for political reasons.
Shortly before the event, Brady posted a photo of his parents on Instagram, wishing them a happy anniversary.
One player made an impromptu appearance at a White House press before the official ceremony. Tight end Rob Gronkowski stuck his head in the door of the briefing room as Press Secretary Sean Spicer was holding a televised press briefing.
He jokingly asked Spicer whether he needed any help, drawing laughs. Spicer - an avid Patriots fan - responded "I think I got this. But thank you."
Trump's welcome to the team was coming hours after the news from Massachusetts prisons officials that ex-Patriot tight end Aaron Hernandez hanged himself in his prison cell.
Hernandez, who played for the Patriots from 2010 to 2012, was serving a life sentence for a murder conviction. Days ago, the 27-year-old former tight end was acquitted of a double murder.
A team spokesman said the Patriots were aware of the reports of Hernandez's death but that the club wasn't expected to comment.
Trump has particularly close ties to the Patriots, counting owner Bob Kraft and coach Bill Belichick as friends. One of Trump's signature "Make America Great Again" hats was spotted in Tom Brady's locker in 2015.
Kraft was one of at least seven NFL team owners who gave $1 million each to Trump's inaugural committee, a new fundraising report shows. Others include the owners of the Houston Texans, the Washington Redskins, the Jacksonville Jaguars and the LA Rams. Kraft gave the money via his Kraft Group LLC.
Besides Brady, six members of the team were not expected at Wednesday's event.
After the triumphant victory, tight end Martellus Bennett quickly made it clear he was not coming to the White House and other teammates followed. Many noted their differences with the Republican administration.
Defensive back Devin McCourty told Time Magazine that "I don't feel accepted in the White House. With the president having so many strong opinions and prejudices I believe certain people might feel accepted there while others won't."
Players have turned down White House invites ever since such events began to take off under President Ronald Reagan. That includes Brady in 2015. He cited a "family commitment" at the time, but there was speculation he declined because of some unflattering comments a spokesman for President Barack Obama made about the "Deflategate" scandal.
The team's White House visit caps a dramatic Super Bowl victory. In the first such game to go to overtime, the Patriots pulled off a stunning rally from 25 points down to beat the Atlanta Falcons.
__
Julie Bykowicz and Jill Colvin contributed to this report.