Pastrnak scores with 12 seconds left, Bruins edge Stars 3-2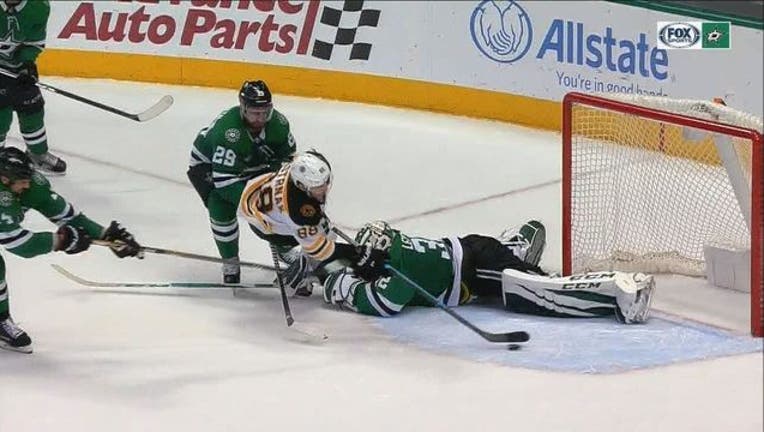 article
DALLAS (AP) - David Pastrnak broke a tie with 12 seconds left and the Boston Bruins scored three straight goals in the third period to rally past the fading Dallas Stars 3-2 on Friday night.
A scramble followed a faceoff in the Dallas end, and Brad Marchand passed to Pastrnak in front. While falling down, he put the puck past Stars goalie Kari Lehtonen.
Tuukka Rask made a season-high 40 saves for the Bruins. Marchand scored Boston's first goal and also assisted on a short-handed goal by Tim Schaller that tied it midway through the third period.
The second-place Bruins won for the first time in three games (1-0-2) to move within four points of Atlantic Division leader Tampa Bay. Boston has already clinched a playoff berth.
The Stars are winless in their last seven games (0-5-2). They remained four points behind Colorado for the second Western Conference wild card.
Dallas led 2-0 on a first-period goal by Esa Lindell and Jamie Benn's short-handed score late in the second.
In the third, Marchand tipped in a shot by Pastrnak before Schaller scored on a 2-on-1 with Marchand.
Lehtonen finished with 33 saves.
Lindell scored 2:26 into the game. Jason Dickinson tried to deflect a shot from the right point into the net but the puck went wide right. Curtis McKenzie picked it up behind the goal line and passed to Lindell high in the left faceoff circle. His wrist shot went in off Rask's right arm.
Benn missed two good scoring opportunities early in the second period, but connected at 19:22. He took a pass from Tyler Seguin at the Dallas blue line and had a breakaway when Matt Grzelcyk fell down. Benn slid a backhand under Rask.
NOTES: The Bruins have won their last five games in Dallas. . Stars D Marc Methot returned after missing four games because of a hand injury. . Benn's short-handed goal was his first this season, the Stars' fifth and the ninth allowed by Boston. . Dallas gave up eight goals in 22 opponent power plays on its winless six-game road trip but returned home and killed off all three against Boston. The Bruins' penalty killers are 12 for 13 in the last five games, including 4 for 4 on Friday. . Marchand has 19 points (eight goals, 11 assists) in his last 11 games.
UP NEXT
Bruins: Visit the Minnesota Wild on Sunday, the third stop on a four-game trip.
Stars: Play the second of three straight home games Sunday against Vancouver.
___
More NHL hockey: https://apnews.com/tag/NHLhockey