Osetkowski scores 21 as Texas tops No. 23 Oklahoma 77-66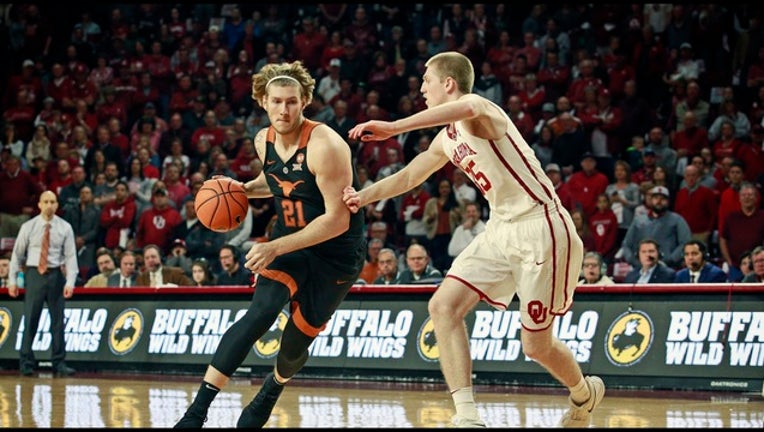 NORMAN, Okla. (AP) - Texas was getting desperate, and the Longhorns finally got the win they needed.
Dylan Osetkowski scored 21 points, Texas slowed national scoring leader Trae Young, and the Longhorns beat No. 23 Oklahoma 77-66 on Saturday to extend the Sooners' losing streak to five games.
Texas (16-11, 6-8 Big 12) needed the win to boost NCAA Tournament resume after losing three straight.
"It's big," Texas coach Shaka Smart said. "I told our guys we were fighting for our NCAA Tournament lives. It's not to say it's fighting-for-your-life life and death, but when you're a basketball player or a basketball coach, it can feel that way."
Young, a freshman point guard, scored 26 points on 7 for 21 shooting.
"This is the toughest conference in America," Young said. "I'm getting guarded like nobody else in the country. I'm being scouted on like nobody else in the country is. It's a mystery coming up each and every game and how teams are going to guard me and how I'm going to dictate how my team wins. It's just a process."
Kerwin Roach got most of the defensive work against Young, and both sides acknowledged he was a difference maker. When Young got by him, the 6-foot-11 Mohamed Bamba was waiting. Bamba, the Big 12's leader in blocks, finished with four.
Osetkowski carried much of the load on offense. The 6-foot-9 junior said everyone was telling him to shoot, and he responded by making 9 of 17. Roach scored 12 points, Matt Coleman scored 11 and Bamba added 10 points and 18 rebounds for Texas, which never trailed and swept the season series for the first time since 2011-12.
The Sooners (16-10, 6-8) shot just 30.8 percent overall and posted their lowest-scoring game of the season. Even an appearance by Heisman Trophy winner Baker Mayfield wasn't enough to get the Sooners going.
"We just have to keep working at it," Oklahoma coach Lon Kruger said. "There is no shortcut to it. A lot of it is confidence about getting shots to go down and feeling good about it. We need to get more movement away from the ball. Get the ball moving off the pass a little bit more. We've got to find the spark. We need shots to go in for sure."
Oklahoma's Kameron McGusty hit a 3 at the first-half buzzer to cut Texas' lead to 32-29. The Sooners shot just 25.8 percent in the first half and matched their lowest point total for a half this season, yet hung tough by making 9 of 12 free throws.
Young hit a 3-pointer with about 13 minutes remaining to cut Texas' lead to a point. Oklahoma's Brady Manek attempted a corner 3-pointer, but Osetkowski blocked it and saved the ball to a teammate. The resulting fast break led to a layup by Texas' Jacob Young that put the Longhorns up 51-44.
The Longhorns expanded their lead to 13 before a layup and a 3-pointer by Young led to a Texas timeout, but the Longhorns were able to keep the Sooners at bay.
___
BIG PICTURE
Texas: The Longhorns bounced back after a 74-73 double-overtime loss to Baylor earlier in the week.
Oklahoma: Trae Young has made just 18 of 58 field goals and 4 of 27 3-pointers the past three games combined. He said he plans to stick to his regular routine.
"I'm not going to change because that is what has gotten me here in the first place," he said. "I haven't been shooting good these past few games, but nothing is going to change for me because that is what the great ones do, they don't change their routine because that's what made them great in the first place."
QUOTABLE
Mayfield, on the rivalry with Texas: "You come to Oklahoma to beat Texas. I was born and raised in Austin. They didn't recruit me. I grew up 15 miles from their campus. I can't stand them. Anything they do, I don't care. I talked to the NFL guys and they said I need to calm it down a little bit, but when it comes to Texas, absolutely not. No. End of story."
UP NEXT
Texas: The Longhorns travel to Kansas State on Wednesday.
Oklahoma: The Sooners play at Kansas on Monday.
___
Follow Cliff Brunt on Twitter: www.twitter.com/CliffBruntAP .
___
More AP college basketball: http://collegebasketball.ap.org and http://www.twitter.com/AP_Top25 .