Oklahoma State tops struggling No. 19 West Virginia 88-85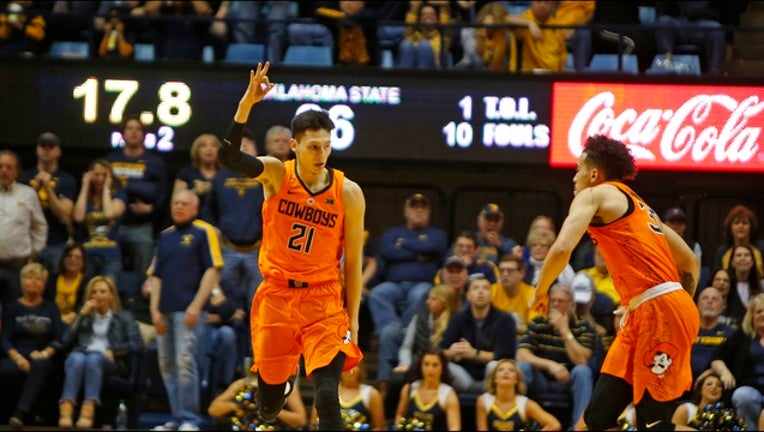 article
MORGANTOWN, W.Va. (AP) - Road games against ranked teams don't seem to be much of a problem for coach Mike Boynton Jr and his Cowboys.
Kendall Smith and Cameron McGriff each scored 20 points and Oklahoma State beat another ranked team on the road, topping No. 19 West Virginia 88-85 Saturday.
"We're fighters," Smith said. "Every man in that locker room is a fierce competitor. We knew coming in here wasn't going to be easy but we believed in our coaching staff and we believed in our game plan."
The Cowboys (15-10, 5-7 Big 12), who won at then-No. 7 Kansas last weekend, trailed by eight points with 13 ½ minutes left.
Jevon Carter had a career-high 33 points for West Virginia (18-7, 7-5), which has lost six of nine. His layup gave the Mountaineers a six-point lead with three minutes left.
Lindy Waters hit a 3-pointer that put the Cowboys ahead 86-85 in the final half-minute. After a missed three-point attempt by WVU's Beetle Bolden, Smith found an unguarded Jeffrey Carroll who dunked for Oklahoma State to seal the win.
"I attacked and saw Lindy who's an unbelievable shooter and who had just made one," Smith said. "I trusted him, gave him the ball and he made another big shot."
The Cowboys outrebounded West Virginia 12-1 off the Mountaineers' offensive glass in the second half.
"I thought the key to the game was that we had to limit them to one shot per possession," Boynton said. "They are obviously one of the most physical rebounding teams in the country every year. I think we held them to one offensive rebound in the second half and that put us over the top."
Carroll added 14 points and Waters and Mitchell Solomon both scored 10. McGriff made all 13 of his foul shots and also had nine rebounds, leaving him one board short of his first career double-double.
Esa Ahmad added 16 points and Lamont West scored 10 for West Virginia.
BIG PICTURE
Oklahoma State picked up their second straight road win over a ranked team, after beating Kansas 84-79 in Lawrence last week.
West Virginia has lost six of their last nine games, and faces a TCU team they lost to on Monday before heading to Lawrence to play Kansas, where they have never won.
POLL IMPLICATIONS
Even with a 75-73 win over Trae Young and the 17th-ranked Oklahoma on Monday, West Virginia could fall out of the Top 25 on Monday.
ROLE PLAYER
Despite the loss, Carter's 33 points got him out of his two-game slump with West Virginia. After a combined 7 of 25 from the field against Kansas State and Oklahoma, the Mountaineer guard shot 11 of 18 from the field, his best performance since he was a perfect five of five against Radford on Dec. 20, 2016.
PARTY LIKE IT'S 2013
With the upset, Oklahoma State became only the second team to defeat Kansas and West Virginia on the road in the same season since WVU joined the Big 12 in July 2012. The Cowboys also did it in 2013 when WVU finished a lowly 13-19.
UP NEXT
Oklahoma State returns to Stillwater to host Kansas State on Wednesday.
West Virginia has a quick turnaround before hosting TCU on Monday.